The Hall Ball was featured in the New York Times on October 4, 2016. Go here to read about Corey Kilgannon's trip with Ralph to the grave site of Cristóbal Torriente.
Fished from the small creek that runs next to Doubleday Field in Cooperstown, NY, a simple baseball has turned into an epic quest spanning across the United States of America and beyond.  Since August 2010, The Hall Ball has criss-crossed the country on a journey to have its picture taken with each member of the Baseball Hall of Fame, both living and deceased. Now, The Hall Ball is in its final stages before I attempt to donate it to the National Baseball Hall of Fame.  The stories that accompany its journey are as varied, funny, moving and powerful as any in the history of the game.  Please explore to learn more about The Hall Ball Project, the members of the Hall and to discover what you can do to contribute to the completion of the first crowd-sourced artifact donated to the National Baseball Hall of Fame.
To find out about the history of The Hall Ball, go here.
To see all of the photos at once, visit our flickr page.
To stay current with all the latest on The Hall Ball, Like us on facebook.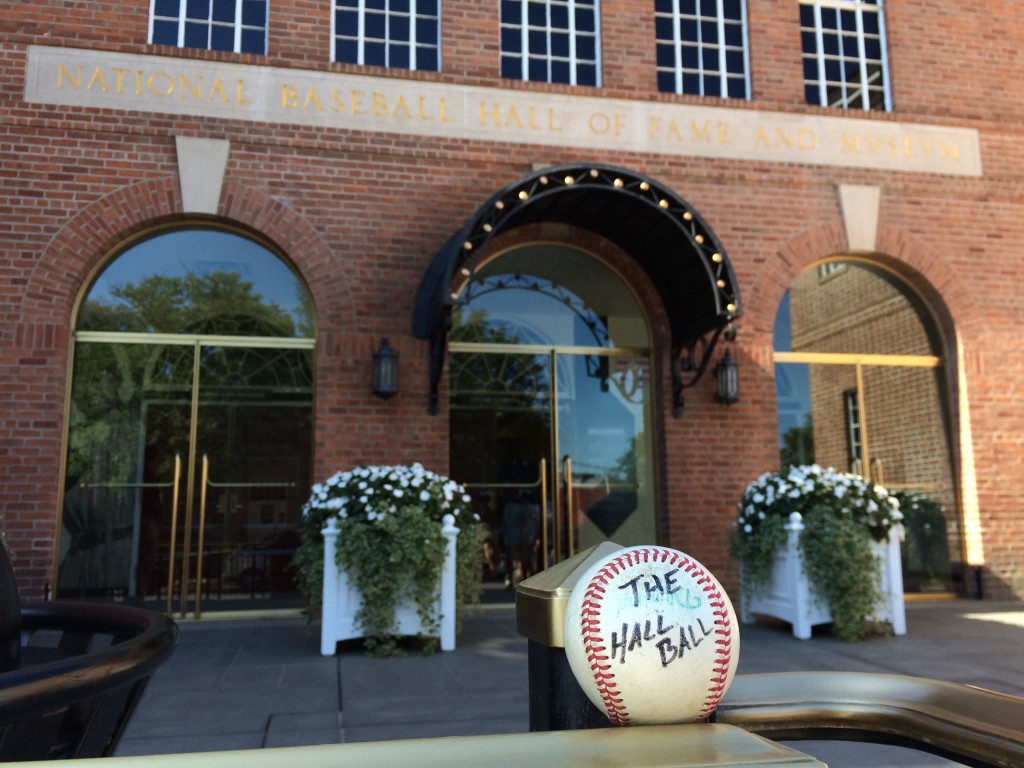 October 23, 2016-The Hall Ball has evolved numerous times in its life. At first, it was just an idea to visit the graves of the members of The Hall of Fame. Then, I added the photos and the ball, quickly followed by the idea to include the living players as well. As time passed and the project started to get noticed by others, I began to realize that it could have more meaning if it stopped being so personal and became something that I shared with others. With the assistance of the folks at Sportspalooza I created a web presence. I made the website and started a Facebook. I got a twitter, too, although I am terrible at using it. I even created a gofundme, in the hopes of getting some support to tackle the mounting debt that the project has created.
Since then, The Hall Ball has inspired a small but loyal group of individuals who pay close attention to its travels. Some of them are friends I knew before the project even began. Some are friends of friends. And some I know only because of The Hall Ball. Tony Milito was one of the latter. Tony is a guy who is a fan of virtually every baseball Facebook page in existence, so The Hall Ball was right up his alley. When I put out an early plea for writers to help me complete the bios I wanted to create for the website, he was one of the first to volunteer. As of today, he has probably written more of them than I have. Every time someone on Facebook posts about a Hall of Famer, Tony is sure to comment on the ball's visit to that player and post a project photo.
I met Tony in person for the first time in May of 2014 when he drove to Staten Island from his home of New Brunswick, NJ to join in the celebration of the marker I assisted in installing for Sol White. By that time, he had donated financially to the project and was sending me emails letting me know when living players were passing through. I was so humbled to meet someone whose love for the game was so evident, and whose respect for what I was doing was so genuine, that it remains one of my favorite memories from the day. I even took Tony's picture that day, holding the ball. He had earned the right.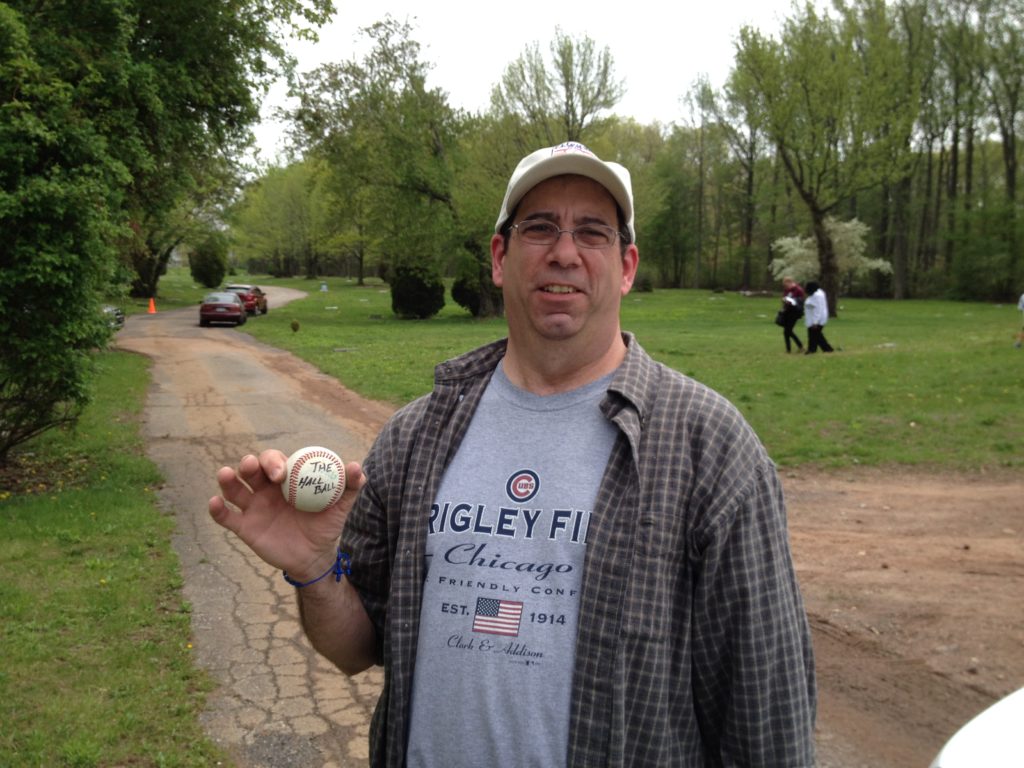 Since then he has been the project's greatest advocate. Besides making sure that nary a Facebook post goes by without a nod to the ball, it was Tony who wrote the letter to Corey Kilgannon of the New York Times telling him of the project. I owe the small fifteen minutes of fame that has landed in my lap over the last three weeks to him. It would not be an exaggeration to say that even before today, the project would not be as far along as it is without Tony's help.
I only met Tony's wife, Kathy, once. After I returned from Cuba, I wrote about a new collection I wanted to start of the rookie cards for every Cuban who has ever spent time in a major league uniform. Tony promptly dug into his card collection, found every duplicate he had of a Cuban player, and he and Kathy made the drive up to Staten Island to bring me this very generous gift. Kathy was originally from Staten Island and still had family in the area. If memory serves, I think they were even on the way to her high school reunion when they paid their visit. Kathy loved square dancing, fireworks, frogs, baseball and Tony. Anyone who knew them knew just how much they were in love.
I spent the next year watching Kathy's continued battle with cancer from the safe remove of the internet. Tony would post the up and down updates of her struggle. I knew that he retired and they went down to the house in Florida they had purchased. I knew their wish was for her to finally conquer the disease in the dream home they had always wanted. And so I knew, just days after they settled into their Cape Coral nest, that their visits to hospitals were not over. Kathy persevered for seven more months, but on June 12, the cancer finally ended Kathy's life and broke Tony's heart.
Since then, Tony has written about his grieving. About the continued signs Kathy seems to keep sending him, including a frog that moved into their yard the day after she died. About the junk mail that still keeps coming to their mailbox with her name on it. About the echoes that are left behind when a loved one is gone forever and how hollow the things that remain feel. I don't think he even realizes what a reminder he has served for me, to love and live and never hesitate to embrace those that mean the most to me.
I have also watched him manage his grief in a way that I myself can fully appreciate, and have used in times of hurt in my own life. That tool? Why, baseball, of course. He has spent the months since traveling to games and stadiums and museums and special events commemorating the sport that has meant so much to him, to me, and to generations of people for the last 160 years.
He watched his beloved Mets make it all the way to the Wildcard game, where he and I sat in section 501 of Citifield and witnessed this year's dream fall to Conor Gillaspie's unlikely ninth-inning home run. He's gone to a sports collectible show in Atlantic City, and watched multiple vintage baseball games played by the rules of the 1850s. He's witnessed the Trenton Thunder play the Akron RubberDucks and saw big league games in Atlanta and Philadelphia. He climbed the lone remaining structure from the Polo Grounds, the John T. Brush stairwell, and he went to Yogi Berra's museum in Little Falls. Last weekend he visited the Forbes Field Wall to join in the celebration of the 56th anniversary of Bill Mazeroski's historic home run.
And then there was today.
Those of you who are paying attention to the project know that I put out a plea this week to try and raise some last minute capital in order to photograph Red Schoendienst in St. Louis. I'm thrilled to say that we were able to raise over three hundred dollars which, while certainly not enough to cover the whole ticket, was enough to justify the remaining expense. The only problem was that this weekend was one of the infrequent times in which my job required me to work on a Saturday. I had the funding, but I myself could not go to St. Louis. What to do?
Other than my beloved Family, there is really only one person I trust with the ball at this point, and that's Tony. So, I asked him to do something unprecedented in the history of the project. I asked him to take it to St. Louis and get the photograph for me. The ball hasn't really been out of my possession since it was created and when I gave it to him on Thursday it was with no small amount of nerves. But, Mr. Schoendienst is 93 years old. My chances were running out.
To be clear, there are already three photographs in the Project that were taken by other people. Both the Reggie Jackson and Cal Ripken, Jr. photos were taken by their respective handlers with me standing nearby. Mike Schmidt's photo was taken by Sean Morgan with Fanatics Authentic, who was leery of my intentions and would only agree to the photo if he got to take it. But, I have never not been on site when the picture was taken. Today, the Ball became bigger than me. Today, the 288th photograph was taken while I was 972 miles away, tucked in the corner of a darkened theatre.
I have always wanted the ball to be thought of as a communal project. I have wanted the people who have donated their money, the ones who wrote bios for the site, the blogs and podcasts that helped spread the word, and even the people that took the split second to hit "like" on Facebook, to feel some sense of ownership in the project. Today, Tony truly became one of the creators of The Hall Ball. And, hopefully, for just a little while, his beloved baseball masked the pain of missing his beloved Kathy.
There has been a lot of good that has come from the ball already. It led me to Sol White and now Cristóbal Torriente. It has helped educate me about the game and made me a better historian than I was six years ago. It has brought me and my family to locations exotic and mundane, opening up the great expanse of America to us in a very special way. It took me to Cuba, where I had one of the most transformative experiences of my life. And now, it has given this kind, loving man a chance to meet a baseball legend and to be a part of something unique. Thanks, Tony, for the picture, and for being there all this time. It has been an honor getting to know you.
August 30, 2016-Summer presented its usual challenges when it comes to working on the Hall Ball. While the rest of the world vacations, people in theatre dive into the all-consuming world of summer stock or, in my case, summer camp. The low-tech setting and demanding hours make even listening to that day's game an after-thought. It's not an easy gig for a baseball fan.
But, that does not mean the project has been completely idle. At the end of May and beginning of June, I took a trip to the middle of America, visiting Oklahoma, Kansas, Nebraska and the Kansas City-area. I photographed twelve more graves along the way, including Warren Spahn, Grover Cleveland Alexander and Satchel Paige. Visiting Alexander's grave with Loren Studley, one of founders of the Museum of Nebraska Major League Baseball was a special treat. So was exploring the home of Satchel Paige in Kansas City. The house itself was boarded up and dilapidated, a sad reminder of how quickly things can be forgotten. I chatted with Paige's old neighbor while we toured the property, and he shared a few racy details about Satch (and Leroy's daughter). I took home a brick from the crumbling front porch stairs.
Induction weekend netted two more living Hall of Famers, Craig Biggio and John Smoltz. Both of them were charming and cooperative. I even had enough time with Biggio that I was able to tell him a little bit about the 19th Century Grave Marker Project. I was denied by Randy Johnson. This marks only the second time I have been turned down by a Hall of Famer. I did eventually photograph the first one, Bob Gibson, who, like Johnson, was a menacing force on the mound. I haven't given up hope. There's still time.
There are potentially eight more photos being shot in just a few weeks. I will be traveling to St. Louis in mid-September where four more Hall of Famers are buried, plus an additional three in the surrounding suburbs. One photo, of cremated umpire Al Barlick, will hopefully be achieved on a detour through a former Springfield, IL coal mine.
As of this writing, the project stands at 279 completed photos, leaving just 33 more to take. Thirteen of those players are alive, including Johnson, Red Schoendienst, Doug Harvey, Willie Mays, Hank Aaron, Sandy Koufax, Bill Mazeroski, Willie McCovey, Carl Yastrzemski, Tom Seaver, Nolan Ryan, Geroge Brett and Ken Griffey, Jr. Of the twenty others that remain, Barlick, Earl Weaver and Monte Irvin have no burial site and Lee MacPhail remains a mystery, though Stew Thornley has at least tracked him as far as Scarsdale, NY. All of that means that after the trip to St. Louis, there will be only nine more graves to visit.
It's humbling to be so close. Six years. For the last six years I have been envisioning the completion of this project and what it would mean, the grandiose thoughts of a man who has been behind the wheel for thousands upon thousands of miles, chasing a foolish dream. I still don't really know how I'll react. But it is clear that the end is coming. I will finish my little piece of history. If the Hall takes it, I will consider it a job well done. If not…well, I guess I'll have a baseball with a hell of story to leave my kids.
May 17, 2016-Mike Piazza becomes number 265 in the project, thanks to the amazing people at Steiner Sports. A special nod to George De Jesus, Eric Levy and Nicole for making it possible. Look for the photo tomorrow!!
January 18, 2016-Over the course of The Hall Ball, there have been many missed opportunities. Schedules didn't line up, notices were overlooked, and public appearances were chaotic and disorganized. Any number of reasons have contributed to why I have not been able to photograph all of the living members, yet.
The first lost chance was Gary Carter. He was appearing at a card show just a few months after I began the project. I was still figuring out how I wanted to approach the living members. I decided to attend the show and give it a shot with this hero of the 1986 World Series.
I don't remember how much it cost to get an autograph. More than I was willing to spend. From the beginning I knew that if I ended up paying every living Hall of Famer the asking price for his photo the project was going to become untenable. I knew because I wasn't asking for autographs, the ball was going to have little monetary value. I couldn't justify the expense, especially in the light of all of the necessary travel.
I lingered around the area Carter was signing. The line was long and I was hesitant to wait all that time only to get to the front and be denied. So, after a while, I simply left. I was determined to come up with a better plan (which I ultimately did) than just showing up cold. I figured that I would get Carter at some point in the future. He was young. There would be time.
Except there wasn't. Barely 15 months later, Carter was dead. An aggressive form of brain cancer, called glioblastoma, felled this gentle soul at the young age of 58. I would eventually take a photo of Carter's grave, in Tequesta, Florida, in March of 2015. But, as with all of the Hall of Famers, I wish I had been able to reach him while he was alive. I have regretted my hesitance for almost four years, and have tried to never take for granted the existence of any of the members. Life is too unexpected.
It cannot be said that the death of Monte Irvin this week was unexpected. Irvin was 96 and had been in poor health for some time. But he is another member of The Hall whom I came close to photographing when he was still alive, only to have to ultimately reach him too late.
When I finally decided to approach the producers of the card shows, the first one I reached out to was Brian Coppola with JP Sports. Brian has been indispensable, helping me secure over a dozen of the photos. He mentioned, at the first show I attended with his blessing, that it was a shame that I hadn't been there at the previous show. Monte Irvin had been there and not only was he generous with his time and likely willing to take the photo, he was "getting on."
Years later, in January 2014, when I made my pilgrimage to Texas, I thoroughly did my research for the cemeteries I was going to visit. Some of them were in obscure corners and it took a little extra digging. Rogers Hornsby's grave, for example, is in the most hidden cemetery I have ever explored.
What I failed to do was thoroughly research where all the living Hall of Famers resided. I was in Houston to photograph Willard Brown, who just so happened to have been an opponent of Irvin in the 1946 Negro League World Series, playing for the Kansas City Monarchs against Irvin's Newark Eagles. If I had only known that Irvin resided just a few miles away, and was apparently receptive to visitors, I might have gotten the photo then. But, alas, I didn't learn either of those things until I returned home.
The third time The Hall Ball crossed paths with Irvin, it wasn't so much a lost opportunity as it was an interesting reminder. A signpost if you will. While in Cuba, tour organizer Kit Krieger pointed out that Irvin had actually been a part of the first Cubaball trip. Honorary Krieger brother Tom Hawthorn, writes eloquently of Irvin's return and it is worth a read.
Throughout my time in Cuba, I kept imagining what it might have been like, to have spent the week with one of the men I wanted to photograph. But, this was in 2004, six years before The Hall Ball was even conceived. It was just a fantastical thought.
Yet, the thought resonated, for good and ill. The fact that Irvin had taken a pilgrimage to the same place as I was another reminder that the Ball is not just the lunatic delusion of a madman, but has become a legitimate homage to the game. But, it also reminded me of other past, and possible, missed opportunities.
Today, I am reminded of them again. One of the greatest stars of Negro League baseball, a giant who could have made an even bigger impact on the major league game if he only were given a chance, has left this earth. He has requested that his body be cremated, and so I hope to attend the public memorial his family will be holding in New Jersey in the spring. I'm sure I will think of some appropriate staging of the ball for the project. But it won't be the same.
It's never the same, after a giant leaves us, and the opportunity is gone.
January 6, 2016-The piece below is a section of a longer essay originally written in 2011. It was for a radio show I had produced and featured a collection of stories about the borough of Queens. The first portion of it, which is a little too maudlin for a day of celebration, details my experiences on the morning of September 11th, 2001. It also spoke of the profound depression that I and, seemingly, the whole city of New York felt for seven straight days.
But, joy did come again. It came, for me, exactly one week later. On September 18th, the New York Mets played the Pittsburgh Pirates, in Pittsburgh, even though the game was originally scheduled for New York. The city needed a few extra days to prepare to host a major sporting event and Major League Baseball decided to swap the schedule around. I finally had something to distract me from the endless loop that was being fed to me by the news.
I know that it sounds shallow, and maybe it is. Baseball is a game, a diversion that could never ease the tremendous pain that was suffered that day. But it is also, for some like myself, more than the sum of its parts. It cannot be overstated how, especially in the summer of 2001, baseball is woven into the fabric of my existence. For example, I can tell you with complete confidence that I went to Shea Stadium eight times that summer. I also saw the Mets play once at Yankee Stadium, once at Veteran's Stadium in Philadelphia and once at Wrigley Field in Chicago. I can also tell you they won five of those games and they lost six. I keep track in an Excel spreadsheet of every game I go to.
Listening to the game on my portable transistor radio was not a diversion, it was a ritual. Not only was the world I had known, lost forever, but there was a hole in my daily life that was instead being filled with the same dreadful footage. Mid-September is the heart of the pennant race and instead of reading in the New York Times about the exploits of the Metropolitans, I was reading the "Portraits of Grief," the Times' attempt to publish a short bio of everyone who died that day.
And yet, the great re-awakening that occurred when the Mets faced (and beat) the Pirates on the 18th was nothing compared to what happened three days later. They came home. My Mets came back to Flushing to play a three game set against the hated Atlanta Braves on September 21. They had swept the Pirates and unbelievably, after a dismal, disappointing summer, they were only 5.5 games out of first place, with six to play against the first place Braves. With the return of joy also came the return of hope.
And pride. We New Yorkers were not afraid. Over 41,000 braved the very real threat. If the terrorists were going to attack such American institutions as Wall St., then certainly the good, old American game of baseball was also at risk.
I was not at the game. I was sitting in my little office at the theatre. We opened the play I was working on (originally scheduled to premiere on Sept. 12) a week later than originally planned and the show went on. I spent that night in my cubicle, the transistor turned down low so that the sound of the game wouldn't drift into the theatre.
I writhed in agony as Atlanta struck first blood in the fourth with a single run. That was quickly countered in the bottom of the inning on an RBI by Tsuyoshi Shinjo. It was a tight, tense game and throughout I listened to the crowd in the background to hear if something horrible, something terrible were happening that had nothing to do with baseball.
Half an inning after Liza Minnelli came out during the seventh inning stretch to sing "New York, New York," the Braves responded with another run and the Mets trailed 2-1 going into the bottom of the eighth.
And that was when Atlas lifted the world, and set things right again. At least for one night.
The story is pure Hollywood and requires no set-up. Mets demi-god Mike Piazza hit a two-run home run of off native New Yorker Steve Karsay. Karsay was born in Flushing and attended Middle Village High School. It was a majestic shot, straight to center field, and when the ball landed the screams that tore through the night were of ecstasy, and agony.
Grown men wept, myself included, alone in my little office. We wept because in a world that had been sapped of all things good and true, there was still the possibility for magic. And we witnessed the return of magic in the mortal realm. Of course we would beat the terrorists. We could summon home runs from our collective hopes and dreams.
This is the single favorite moment in my personal history with baseball. There have been many, many magical things I have witnessed in the thousands of games I have enjoyed, but none caused such an incredible outpouring of emotion.
Maybe that's why I cried tonight when I heard Hall president Jeff Idelson rattle off the list of familiar stats before finally saying Piazza's name. Maybe it's because I can't separate the two anymore. The man and the home run.
That's going to be a stressful picture to take.
November 11, 2015-With the rainy chill of November settling in, we are in that brief period of mourning that accompanies the end of the baseball season. My beloved Mets gave a convincing postseason performance, until all of their flaws became clear and the magic disappeared in five quick games to the Royals. Despite the lopsided four games to one result, it is worth noting that of the 52 innings played in the Series, sixteen of those innings were tied. Of the remaining 36, the Mets held the lead in 24 of them. With a core of five talented, young starting pitchers (when Zack Wheeler returns in June), one cannot help but consider the future bright for the Metros.
In fact, one need not waste much time to mourn the end of 2015 no matter your team, as the the bird called 2016 already begins to stir from the ashes. It is no mistake that the capital of Arizona, home state of the noteworthy Fall League that is currently three weeks into its season, is Phoenix. In team offices around the country, the wheeling and dealing of the Hot Stove is slowly rolling into motion. And, most notably to The Hall Ball, it is election time in Cooperstown.
Just yesterday, the ballot for this year's election by the BBWAA was officially released. Ken Griffey Jr. and Trevor Hoffman seem likely first ballot shoo-ins, though Hoffman may have to wait a year while baseball continues to debate the role of the closer. The math also looks good for Mike Piazza, whose percentages have been climbing steadily since he was first eligible. Casting aside all superstition, I don't mind saying that the prospect of having the Mets appear in the World Series the same year they finally get their second inductee in the Hall (only Tom Seaver wears a Mets cap on his plaque), is enticing.
The other portion of Hall voting, the Veteran's Committee, announced their slate at the beginning of the postseason. This year's ballot, of the awkwardly titled Pre-Integration Era, features some prominent names from 19th century baseball, a favorite time period of mine. Bill Dahlen, Harry Stovey, and Chris von der Ahe all had indelible impacts in the nascent years of Major League Baseball, and could be considered legitimate inductees. Interestingly though, in a nearly unprecedented move, the name that looms the largest for me never spent a moment of his life affiliated with MLB. In fact, he likely never made a dime from the game, with the exception of charging clubs for the balls he provided.
Daniel Lucius "Doc" Adams was an influential early member of the New York Knickerbockers Base Ball Club, the team that for many years was credited as being the "first" baseball team. We now know that there were many teams that came before the Knicks, though none kept as meticulous a record. The Knicks also played a vital role in the formalization and adaptation of the rules of the game as we understand them today. In appreciation of this role, founding Knickerbocker Alexander Cartwright was elected into the Hall in 1938. To this day, other than pioneer scribe Henry Chadwick, Cartwright remains the only member of the Hall who was never affiliated with either the Negro Leagues or Major League Baseball.
Unfortunately, virtually everything on Cartwright's plaque is a lie. He did play a role in bringing the game to the West Coast and he definitely heavily influenced its introduction to the state of Hawaii. But all of the rest, the distance between the base paths, the number of innings and players per side in a game, should be credited to other men, the most predominant of which is Adams. In fact, by the time these rules were adopted, Cartwright had left New York and headed out west, spreading the gospel of the game as he he mined for gold in them thar hills of San Francisco.
It was Doc Adams who declared the bases should be set 90 feet apart, who was instrumental in the adaptation of the fly rule (originally, a ball caught after a single bounce was called an out), who served as club president and representative at the early, rule-establishing conventions of the pre-professional National Association, and who also invented the role of shortstop. And these are just the highlights. Few in the Hall can boast of as influential a resume.
I have gotten a chance to know Marjorie Adams, Doc's great-granddaughter. I was first introduced to her at the 2014 Frederick Ivor-Campbell 19th Century Base Ball Conference, where she played the role of Doc in an "interview" with historian Gary "Pops" O'Maxfield. She has been instrumental in the campaign to get Doc his recognition. Nicknamed "Cranky" (a double entendre on an old-fashioned term for a baseball fan as well her irascible personality), Marjorie has the kind of tenacity you would want in an advocate. Her story was covered in a recent New York Times and if Doc is elected, she is perhaps the one who deserves the most credit.
It is not often that I get personally invested in who does or does not get elected. It's a complicated question with rarely universally accepted answers. But, I have to admit that I hope to take the ball back to Evergreen Cemetery in New Haven, burial place of Adams. Yankee (and Met) architect George Weiss is buried there and was photographed for the project in September, 2010.
This time, it is my wish to take a photo of the ball with the kin of an immortal by my side. I had this honor once, in Cuba, at the grave of Martin Dihigo, and it brings a profound feeling of poignancy to the moment. The goal of the project has always been to keep the stories of all of the members of the Hall alive. But, no legacy can match that of a child, and Marjorie is a direct link to the story of Doc and thus, the story of baseball.
September 23, 2015-By July 2011 I had been working on the Hall Ball for almost a year. I had traveled throughout eight different states and had visited the graves of sixty-four Hall of Famers. The one part of the project that I had not begun to address, however, was photographing the living players. With the upcoming induction of Roberto Alomar, Bert Blyleven and Pat Gillick, I decided the best place for me to begin was a visit to Cooperstown.
Induction weekend is a baseball fan's dream, and potentially an agoraphobic's nightmare. Depending on the year, the tiny town's streets can be packed to capacity. I waded my way through the thick crowd and met with Sue McKay, the head of accessions at the Hall of Fame, to explain the project and see if the Hall would be able to help me with access to any of the players. Sadly, the Hall has a very strict policy regarding player contact and she stated it would be impossible. However, she said brightly, it was induction weekend, so I should just hit the streets and see who I could find.
As soon as I stepped into the bright sunshine I saw a cluster down the street in front of one of the town's many restaurants. I wandered over and discovered what the fuss was all about. It was a Hall of Famer, all right. And not just any Hall of Famer. It was one of the most iconic, recognizable, beloved of all Hall of Famers. It was, of course, Yogi Berra.
Yogi was charging the usual autograph fees, but for dropping a small donation for local sports programs into the bucket in front of him, he was willing to pose for a picture. And that was how, with no fanfare and just minutes after learning I was on my own for the project, I took the first picture of a living member of the Hall.
He didn't say much. I hadn't perfected my rap yet (the brief speech I give each member when I approach them about getting the photo), so I simply asked for the picture and gave him no details. He obliged with a smile, his hat slightly askew, becoming the first of many players who were somewhat confused as to why I wanted just the picture and not their autograph to go with it.
Like every other decent American, I have always loved Yogi. He is, of course, a Yankee icon. But his final nine at bats in the majors took place in 1965 as a member of the Mets. He was the first base coach for the Amazins during their miracle season of 1969 and he took over managing duties upon the untimely death of Gil Hodges, leading the squad to the 1973 World Series. His contribution to New York baseball is unmatched.
His death yesterday marks the fourth time that a member of the Hall has died after I photographed them for the project. The others were Ralph Kiner, Tony Gwynn, and Ernie Banks. Each time this happens I say a prayer of thanks to the baseball gods for giving me the briefest of moments to observe these legends while I still had the chance. I repeated that prayer this morning.
I am often unhappy with the photos I've taken of living members. I am not a professional photographer and, in the staging of the photos, speed is of the essence. That means that each picture for The Hall Ball has been snapped with my iPhone, leading to mixed results in the relatively low light of a convention center. The photo of Yogi was taken outside, under the forgiving light of the sun, and is one of my favorite shots in the whole project. Crisp and clear, each line in the weathered face of a man who looks considerably like my own grandfather, helps tell his story.
A story, I may add, that will never be duplicated. Farewell, Yogi, and thanks.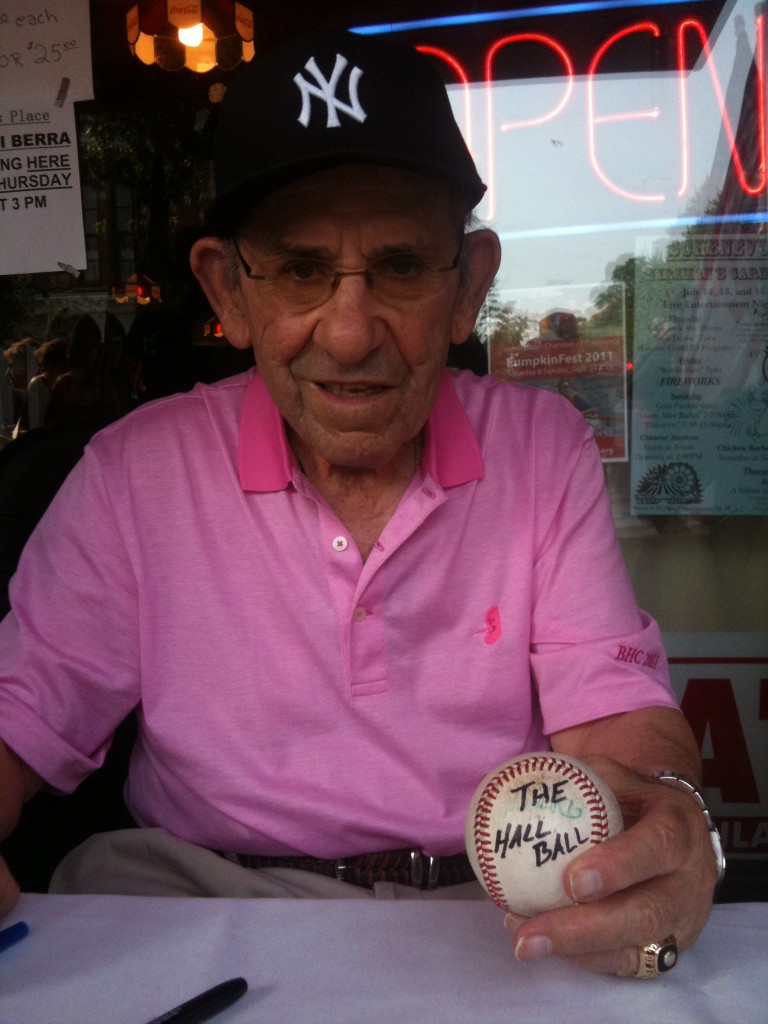 August 30, 2015-As some of you know, for the last year I have been on sabbatical from my job as the Production Manager of the Queens College Department of Drama, Theatre & Dance. Sabbatical is a wondrous and easily misunderstood thing. It could, somewhat easily, turn into a twelve-month vacation, and I think many perceive it that way. However, in my experience, most of my colleagues truly do use that time to expand themselves and make the art that they simply can't when faced with the responsibilities of a regular job. Instilled with a faintly Puritan work ethic at a young age, it would have been impossible for me to do anything but use this great gift wisely.
In that time I have directed seven productions over two summers for Buck's Rock Performing & Visual Arts Camp in New Milford, CT. I production managed the Drama League's annual Directorfest, and stage managed their gala and awards shows, which this year honored James Earl Jones and Chita Rivera. I even picked up a screw gun and did a little carpentry for Second Stage, on 43rd Street in Manhattan. I stayed active in my industry, expanded my contacts and got to make art with a large variety of people.
But, more importantly, I have also been on a yearlong adventure. My love for baseball dates back to my childhood and, except for a brief period in the mid-90s when we broke up, has been a constant. That is, a constant until I started The Hall Ball Project. I did not realize it at the time, but my clever little idea was going to change my life.
A funny thing happens when you start to learn about history. You want to learn more. Think of all recorded history as a puzzle. Each time you learn something new about our past, another piece of the puzzle falls into place. As the grander picture starts to take shape, our enthusiasm for filling in the remaining pieces grows. Thus it has been with my exploration into the members of the Baseball Hall of Fame.
Let's be honest, the greater majority of even the most die-hard fans would have a difficult time naming just a third of the 310 individuals who have been elected to the Hall. It's a lot of history, after all. Organized baseball is 150 years old and the story of the game and its genesis dates back much, much further. I, for one, likely could not have named a hundred members when Anna fished the ball out of that creek five years ago. This was true despite the fact that I considered myself a fairly knowledgeable fan of the game. After all, I had seen Ken Burns' documentary over a dozen times.
It was only when I began to look at all of the inductees that I realized how much I did not know. That was how it started. I would visit a grave and with a curiosity that has grown into a mission, I would learn the story of that person. And because the pieces of the baseball portion of the Great Puzzle are clustered, I began to see a lot of overlap with the 18,301 (as of 8/30/15) players who appeared in a major league game and were NOT in the Hall of Fame.
Roughly two years ago I joined the Society for American Baseball Research. SABR has, of course, become famous because of the work of Bill James, who has revolutionized how we look at baseball statistics. Sabrmetrics is a part of the baseball lexicon now and has even led to an entire conference dedicated to the numbers of baseball. But that is only a small piece of what SABR is.
Perhaps more importantly, SABR is the keeper of the tales. It is a gigantic network of baseball enthusiasts and historians who are each playing their part to keep the story of baseball alive. If I were to begin to list all that SABR does for the game this blog would lose its focus. If you want to know more, visit their website at sabr.org. Be sure to check out the biography project while you are there.
Today, I emphasize the importance of SABR primarily to point out what it has meant to me this last year. In that time I have attended three SABR conferences, in Cooperstown, Detroit and in my own back yard at John Jay College in Manhattan. Because of our shared passion, I have befriended some of the Lions of baseball history, including Peter Mancuso, John Zinn, Peter Bjarkman, Larry McCray and the great John Thorn. Their combined knowledge is simply staggering and to get to learn at their sides has been, and continues to be, an honor.
Most rewarding, however, has been my own work that I have been able to pursue in that time. Since August of last year I have entered every game that was missing from the Protoball database that was played by the New York Knickerbockers between their inception in 1845 and 1850, via transcribing the original game books held at the New York Public Library. In addition, I have entered hundreds of other clubs and games based in the New York City area, including some found in my own home borough, from research done at the Staten Island Historical Society. I even presented on the work that Protoball is doing at the conference at John Jay.
I have also had the honor to team up with some even more esoterically like-minded people, and have become a founding member of the SABR 19th Century Baseball Grave Marker Project. In the vein of the work being done for the Negro Leagues by the amazing Jeremy Krock, we are attempting to place markers at the sites of those players whose circumstances did not afford them the opportunity to have one at the time of their deaths. Our first target, Knickerbocker James Whyte Davis, has begun fund-raising. If you haven't had a chance to pitch in, you should take a look at this extremely worthy, tax-deductible cause.
It was the unmarked grave of Sol White that served as the first photo in The Hall Ball, and it is with some pride that I mention that, with myself serving as the Watson to Jim Overmyer's Holmes, the closest living relation to Sol has been discovered. Mr. Bill Edmondson of Pittsburgh was Sol's daughter's nephew. No direct blood relation remains but Mr. Edmondson clearly remembers his Aunt Marion speaking of her ballplaying father. Jim's work in putting the pieces together has been inspiring.
I have also learned that, despite what the public record states, Cristóbal Torriente is not buried in Cuba. Colon Cemetery in Havana has no record of his body and Calvary Cemetery in Queens has no record of his exhumation from the shared, cemetery-donated gravesite, a thing that would certainly have generated paperwork. Knowing of the corruption of the Batista regime at the time that Torriente's body was supposedly brought home for reburial and celebration, it is unlikely the greedy tyrant would have gone through the expense to make it happen.
And then, of course, there's Cuba. All of my travel left an important mark over this past year, really, but even the wonder that was the two weeks driving up the West Coast of the United States could not compare to the exotic, heartbreaking beauty of Cuba. To immerse myself in the baseball culture of this magical place, along with a busload of 24 other enthusiasts, each of them knowledgeable in their own fields, was an experience that will stay with me for all time.
Prior to attending Induction Weekend in 2014, I had photographed 190 of the members for the Project. By the end of this year's ceremony, the grand total stood at 264. Nine more states to visit. Fifteen more living members to meet. This Project, that has changed my life so drastically, is nearing its conclusion and I'm certain the end will be met with tears of joy and sorrow. The Ball has become very special to me and while I still intend on surrendering it upon its conclusion, it will not be easy an easy thing to do.
The unfinished ball has already provided me with something I have never been able to hold on to in the past, namely sustained inspiration while sitting at a keyboard. I have tried many times in my life to write a book and it has always inevitably ended in failure. I knew from nearly the start that The Hall Ball merited a book, and I made a number of sloppy stabs at it prior to last September. I was having trouble finding the right tone and each chapter read as if they were written for different books.
I had hoped that being able to focus on the task of writing, without the distractions of having to attend a daily job, would finally be the key to my success. I am ecstatic to learn that I was right. Given time, the story of The Hall Ball, and the history of the game in the hundreds of places I've visited on this quest, just flowed from my fingertips. The book is written, at least to the point of the completed travel, but is not complete. There is still more to write, but I know that when I do get to make the remaining trips, the stories will come. This book will be finished.
There's more to say about my experiences this past year, so much more. But the point has been made. What still must be said is that as I return to my regular job, I do it not with sadness for having to let go of all that I was able to do in the last twelve months. Instead, I do it with joy, because I know that my work in baseball, and my love of that work, are now a part of who I am. It will, of course, be difficult to find the time now that I have other responsibilities, but not impossible.
I found the time to write this, after all.