Fished from the small creek that runs next to Doubleday Field in Cooperstown, NY, a simple baseball has turned into an epic quest spanning across the United States of America and beyond.  Since August 2010, The Hall Ball has criss-crossed the country on a journey to have its picture taken with each member of the Baseball Hall of Fame, both living and deceased. Now, The Hall Ball is in its final stages before it is ready to be donated to the National Baseball Hall of Fame.  The stories that accompany its journey are as varied, funny, moving and powerful as any in the history of the game.  Please explore to learn more about The Hall Ball Project, the members of the Hall and to discover what you can do to contribute to the completion of the first crowd-sourced artifact donated to the National Baseball Hall of Fame.
To find out about the history of The Hall Ball, go here.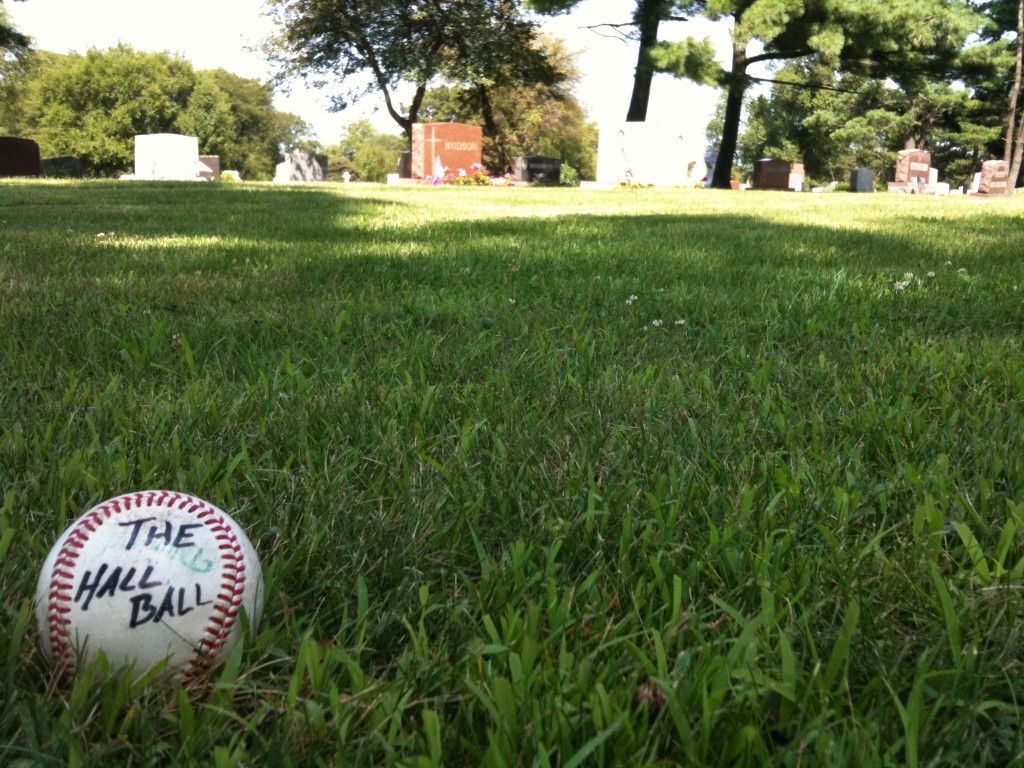 October 19, 2014- An incredibly successful weekend for The Hall Ball Project.
Since the dedication ceremony for Sol White's headstone, I have peripherally been a part of Jim Overmyer's search for Sol's descendents. He's kept me in the loop as he discovered that, despite most of the conventional wisdom, it's very possible that there is a living grandchild of the 19th century Negro League pioneer walking around right now who has no idea of their pedigree.  Jim discovered Sol's marriage certificate and learned from the census that he and his wife did in fact have a daughter, Marian. The New York Amsterdam News mentions in his 1955 obit that her name was also Mrs. Charles Ewell.  Jim went on to learn that she and her husband lived in Philadelphia for almost 40 years before they both disappear. No obituary for either has been discovered, yet, although a Marian Ewell did die in 1992 in Pittsburgh, almost five hours away from Philly.
Tired of sitting on the sidelines, I went down to Philadelphia to see what I could discover.  Unfortunately, birth and death records are locked up pretty tight in Pennsylvania.  A visit to the city archives was fruitless because they only have records until 1915. The city Department of Health, where more modern records are housed, was equally disappointing as they will only release them to family (a bitter irony).  I proceeded to the Free Library of Philadelphia where, after bumping into Cornel West in the lobby, I spent a couple of hours in front of a microfilm machine. There, I confirmed the earlier find that Marian and Charles did in fact live at 1603 Oxford St from 1950 until at least 1990.
Still having no new information, I decided to visit the house they owned. It was in a particularly blighted section of town, with multiple neighboring houses completely boarded up. I was pleased to discover that 1603, however, was still active.  Currently, it contains a group of Temple University students.  None had lived there for more than few months, but they did share the name and number of their landlord.  I spoke to him briefly yesterday and he asked for me to call him back on Monday when he was in the office and could look at the paperwork.  He does remember buying the house in 2008 from a police auction.  I visited the rest of the houses on the block to see if anyone had been living there in the 1990s who might recall Charles and Marian, but none of the residents had been there for more than a few years.
Disappointed that I hadn't learned more, but optimistic that the landlord will be able to get me back a few more years on the house, I ended my search for the day.  It was small progress, but progress nonetheless.  If they lived in the house for forty years, there has to be a paper trail.  If there was a child, I should be able to discover what school he or she attended.  We still do not know if Sol has a descendent, but all avenues have not been closed to us.  The hunt continues!

Saturday and Sunday marked the Fanatics Authentic Sport Spectacular in nearby Oaks, PA. While there were a number of Hall of Famers in attendance, there were two in particular in which I was interested.  I am very pleased to announce that 211-Mike Schmidt and 212-Bob Gibson are now a part of The Hall Ball.  Gibson was particularly exciting as I have attempted to get him three times in the past without any success.  This means that we have now photographed 53 living members (two, Ralph Kiner and Tony Gwynn, have subsequently passed). It also means that there are now only 15 more living members for that phase of the project to be complete!
I'd like to give a huge thanks to the folks at Fanatics Authentic for their help with Schmidt.  It was the first time I had attended one of their shows and their guest list, as well as their vendors, were impressive. I even got to see my third, real live T206 Honus Wagner.
That's all for now, but stay tuned everyone.  There's some big announcements coming down the pike, including an important update about Cuba.  If I don't check in before Tuesday, enjoy the first game of the World Series!
October 11, 2014- Just for fun, we've made a collage of the first 100 photos we took for the project.  Tell us what you think.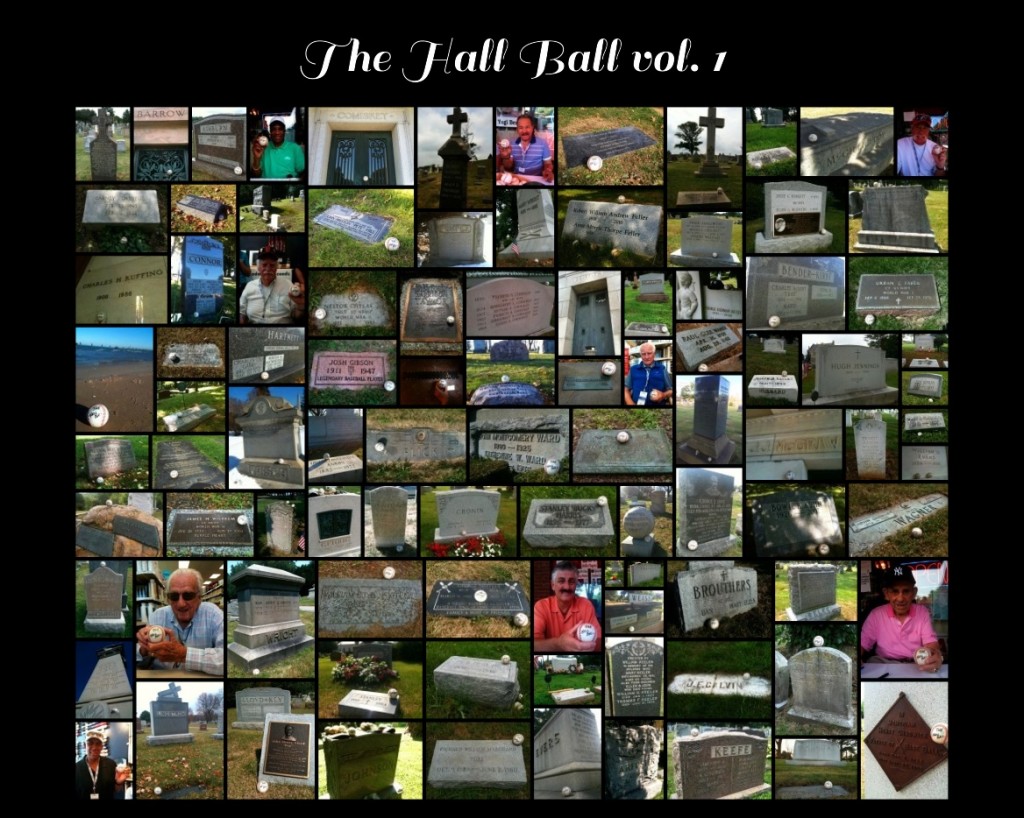 October 4, 2014-In-between Hall Ball trips, I have been working on an exciting project called Protoball. Begun by SABR historian Larry McCray nearly a decade ago, it is a very ambitious database that seeks to compile every team and game of baseball (and its predecessors) before it became a professional enterprise in 1871. The site counts on local historians to access hometown media records to help make the examination of the spread of the game as comprehensive as possible. Despite (or perhaps because of) its importance as the cradle of the game, the Greater New York City area and the mountain of data that went with it has been relatively unclaimed. John Zinn, who has literally written the book on New Jersey, is tackling the Garden State. Richard Hershberger and the late Craig Waff have done marvelous jobs of compiling teams and a great majority of the games played up to 1860 in GNYC, but none of the data has been linked to each other.  I have been performing the sometimes frustrating task of linking the hundreds of clubs to the 1300 games, all while looking out for the duplicates that are always a risk with a wiki. I have also been researching and inputting new information on Manhattan, Brooklyn and Staten Island. This includes the names of hundreds of players who never made a dime from the game, but had a hell of a time doing it. It has been a crash course in the evolution of the sport, and I am excited to be a part. Just when you think you know everything, there's always something else to learn.
For example, I now have a new favorite old-timey team. Well, perhaps favorite isn't the right word, considering that the Mutual Club of New York was founded in 1857 by Tammany Hall cronies.  Boss Tweed himself was on the Board of Directors. Featuring a cast of characters that included the obligatory combative (and drunk) Irishman, cops, politicians, butchers, coroners and many more, they are a rare example of a team surviving through multiple epochs of baseball's adolescence.  When most teams were weakened by the Civil War, the Mutual's connections kept many of them from the front lines.  They were still able to field a solid nine and capitalized on their success. When baseball officially became a profession in 1871 with the forming of the National Association of Professional Baseball Players, they were a founding club of the NA, recognized as the first Major League.  They even spent a single season in the subsequent and still existent National League when it was founded in 1876.  Unfortunately for the Mutuals, the more professional their opponents became the less successful they were, suffering a dreadful 21-35-1 season in their lone year in the NL.  Deciding that the costs of the travel were not going to be offset by the ticket sales his club inspired (teams shared the gate receipts back then) manager William Cammeyer chose to not send his team on their final road trip.  Defying league rule, the team was kicked out. As a result, not a single team from the city of New York was represented in the Major Leagues in 1877, and wouldn't until the New York Gothams joined the NL in 1883. Coincidentally, 1876 marked the last time Boss Tweed walked on this earth a free man. After escaping authorities, he was re-incarcerated in November and died in prison two years later. The Mutuals never recovered either.
Side note. Those 1883 New York Gothams have evolved into the team that is currently in the middle of the 15th inning of their second game against the Washington Nationals in the 2014 Division Series. Gotta love this game.
If you get a chance and would like to dive into some real baseball esoterica, stop by Protoball.  I promise you won't be disappointed.
September 13, 2014-We've just discovered that our trip to Cuba, which was tentatively scheduled for February, is actually happening in November. Only two months away! We need your help.  If you've been thinking of donating, now is the time. If you haven't visited our gofundme page, stop on by and find out about the amazing rewards you can get for your donation.  But, even more importantly, you get to become a part of the first crowd-sourced artifact ever donated to the Baseball Hall of Fame.  How cool is that?
Special thanks to All-Star Bill Cornell for his donation today.  Visit our thanks page to find out who else is joining us on our trip to the Hall.
September 3, 2014-Lots of updates to the website today, including bios for Richie Ashburn, Johnny Bench, Bert Blyleven, George Brett, Joe McCarthy, Sam Thompson, Lloyd Waner and Hack Wilson. Even more exciting, we've added 48 more photos of the Ball with your favorite Hall of Famers.  In addition to the names above, you can now also view the ball with Dave Bancroft, Jimmy Collins, Charles Comiskey, Kiki Cuyler, Rube Foster, Lou Gehrig, Charlie Gehringer, Josh Gibson, Pat Gillick, Burleigh Grimes, Jesse Haines, Harry Heilmann, Whitey Herzog, Pete Hill, Reggie Jackson, Walter Johnson, Judy Johnson, Al Kaline, Buck Leonard, Larry MacPhail, Mickey Mantle, Juan Marichal, Rube Marquard, Joe Morgan, Hal Newhouser, Phil NIekro, Hank O'Day, Jim Palmer, Alex Pompez, Ron Santo, Louis Santop, Al Simmons, Enos Slaughter, Turkey Stearnes, Ben Taylor, Frank Thomas, Joe Torre, Willie Wells, Smokey Joe Williams, Jud Wilson, Hack Wilson and Early Wynn.
Be sure to check out Santo and Wynn.  They were both cremated and their ashes were spread in very special places.
Keep checking in.  With 210 of the 306 Hall of Famers already a part of the project, there's even more to come as we make the final push for the completion of The Hall Ball.
August 30, 2014-Hall Ball creator Ralph Carhart has taken the #icebucketchallenge.  Take a peek at http://youtu.be/L8BmM4jl3hU. If you like it, spread the word. #ALSIronHorse
In an effort to do something different with his video he decided to "choose to nominate no one to follow me. Instead, I want to ask each of you that has the ability to throw an extra $25 to a charity you believe in to please do so. No video necessary (although I do appreciate the more creative ones). I did, in fact, give my money to ALSA because… well, watch the video and you'll understand."
August 23, 2014-The journey of The Hall Ball has been filled with a number of amazing "small world" stories, like many baseball tales. There are, after all, only a finite number of men who have played the game professionally and winnowing them down to the 306 individuals in the Hall makes the pool even smaller. But something downright bizarre happened in Bloomington, IL that reached far beyond the game.
Charles "Old Hoss" Radbourne is buried in Evergreen Memorial Cemetery in Bloomington.  Yesterday he became either number 208 or 209, depending on the Chicago Cubs, in the quest to complete The Hall Ball (explanation to come later-a different story).  I was waiting for Jeremy Krock, the founder of the amazing Negro Leagues Baseball Grave Marker Project, to join me on my visit to Old Hoss and struck up a conversation with the woman who ran the cemetery.
She knew where and who Radbourne was immediately and she asked where the idea for the project came from. I told her the story of our discovery of the grave of Abner Doubleday (1757-1812), "our" Abner's grandfather. (If you want the whole tale go here.) That's when she cried, "Oh, yes, Abner's father is buried here."
I was certain she was confused.  It just couldn't be possible.  The National Geological Survey claims there are 109,000 cemeteries in the United States.  For me to accidentally stumble on grandpa was unusual, although somewhat explainable by location.  For me to then, four years later, as I begin what will hopefully be the final leg of this journey, also trip over his father's grave 782 miles away borders on the divine.
She wasn't confused.  She showed me the booklet she had written about some of the other more famous interments, which included Adlai Stevenson and Dorothy Gage, the five month old infant who inspired the name of L. Frank Baum's Oz heroine.  She knew exactly what she was talking about.  Sadly, however, she did not have an exact location of the grave.
Ulysses Doubleday (1792-1866) was a successful printer apprenticing in Cooperstown before moving on to become an editor in Ballston Spa and Auburn, NY. In 1831 he became a member of the United State House of Representatives. But, in 1837, he lost his fortune when the Stock Market crashed.  He spent time as a merchant and farmer, but never recovered his wealth. When he retired he moved to Bloomington and when he died he was either buried without a marker, or with one so modest that it has since been swallowed up by the earth. The photo below is of the general area in which he lays.
There are a number of obstacles that stand in my way when it comes to successfully completing this project.  I still don't know how I'm going to pay for the thing and I need the cooperation of a number of the more reclusive living members of the Hall.  But, I just have to believe that if the fates are going to have serendipity like this be a part of the story, it is meant to get done.
You can help.  Tell your friends.  Become a part of the journey.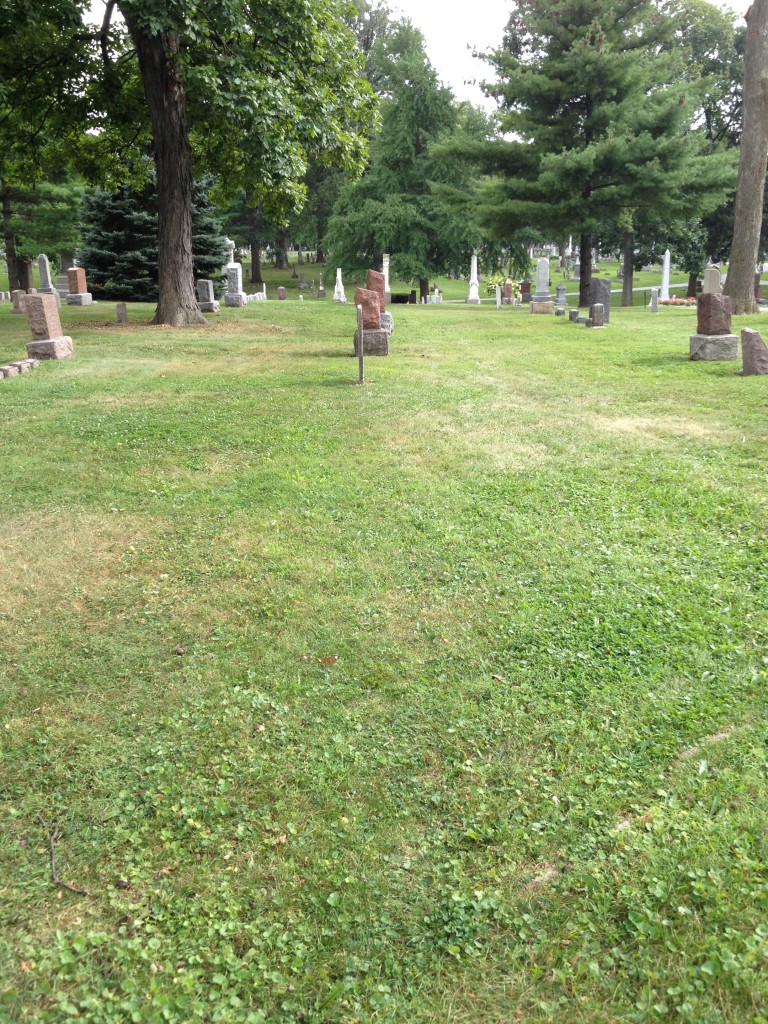 August 14, 2014-After a brief hiatus (we took a small break to direct a play about potential Hall of Famer, Dummy Hoy), The Hall Ball is back in full force and there's lots of exciting things happening!
We crossed the second century mark over the last two days as we took photos of 195-Joe McCarthy, 196-Jimmy Collins, 197-Turkey Stearnes, 198-Charlie Gehringer, 199-Harry Heilmann, 200-Hal Newhouser and 201-Sam Thompson.  Bios and photos will be uploaded soon, so be sure to check back often.
We'll also be reporting on all of the presentations from the 17th Annual SABR Jerry Malloy Conference on Negro Leagues Baseball in Detroit, MI on our facebook page, so be sure you "like" us in order to get all the lowdown.
After the Conference our journey will continue through Northern Michigan, Wisconsin and Illinois as we complete the first of the ten final trips in the adventure of The Hall Ball.  Stay tuned for all the updates.