Fished from the small creek that runs next to Doubleday Field in Cooperstown, NY, a simple baseball has turned into an epic quest spanning across the United States of America and beyond.  Since August 2010, The Hall Ball has criss-crossed the country on a journey to have its picture taken with each member of the Baseball Hall of Fame, both living and deceased. Now, The Hall Ball is in its final stages before it is ready to be donated to the National Baseball Hall of Fame.  The stories that accompany its journey are as varied, funny, moving and powerful as any in the history of the game.  Please explore to learn more about The Hall Ball Project, the members of the Hall and to discover what you can do to contribute to the completion of the first crowd-sourced artifact donated to the National Baseball Hall of Fame.
To find out about the history of The Hall Ball, go here.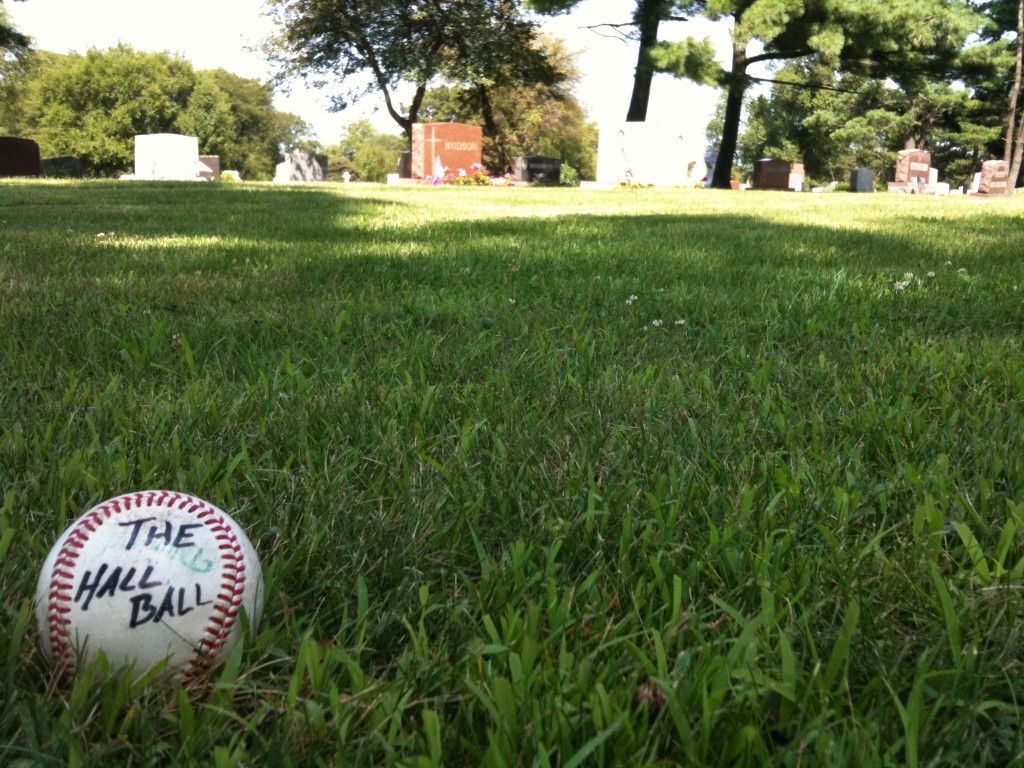 November 24, 2014-Only four men played more seasons in Major League Baseball than Jim Kaat, and two them spent the bulk of their career in the 19th century. Over a career that would span five different teams and twenty-five seasons, Jim Kaat won 283 games, struck out 2461 batters and pitched 4530.1 innings. He also served as a model of consistency that is nearly unparalleled in baseball history.
Born in Zeeland, Michigan Kaat made his major league debut in 1959, appearing in three lackluster games in August and September for the Washington Senators. Although he started two of those games, he only pitched five innings during his first season and finished with a 12.60 ERA. The Senators saw enough promise in the twenty-year old to bring him back to DC for the start of the 1960 season. Kaat started promisingly, getting his first career win in his second start of the season, defeating the New York Yankees. Unfortunately, it would be almost a whole year before he won his second.
It was not until the franchise moved to Minnesota in 1961 that Kaat became a full-time fixture on the club, but once there he never started fewer than twenty-seven games in a season until he left the club in the middle of the 1973 season. 1962 was a breakout year for him, leading the league in shutouts with five. He also lead the league that season in wild pitches and hit batters, effectively keeping hitters off guard with his unpredictability. He would win his first Gold Glove that year, an honor he would repeat 15 more times in his career, including twelve in a row.
1963 was a bit of a down year, as he finished at 10-10 with an ERA of 4.19, but he bounced back in 1964. 17-11 with an ERA a full point lower than the previous year, Kaat was the team leader in wins and a rare bright spot on a club that finished in sixth place, 20 games behind the Yankees.
The New York dynasty was fading, however. The following year Kaat, along with Mudcat Grant, led the Minnesota franchise to its first appearance in a World Series since 1933, with the two pitchers winning a combined 39 games. The pair shocked the Los Angeles Dodgers, and most of the baseball world, when they won the first two games of the World Series, Grant defeating Don Drysdale and Kaat beating the great Sandy Koufax.  The series would go a full seven games, with Kaat squaring off against Koufax a second time in the final match. This time, Kaat wouldn't fare as well, giving up two runs in three innings.  Koufax was nearly flawless, pitching a three hit shutout and securing the Dodgers their fourth World Championship.
1966 would be a career year for Kaat, leading the American League with a career high 25 wins, 19 complete games and 304.2 innings pitched. The final year in which only a single Cy Young Award was given out for both leagues, this early rule likely cost Kaat the award.  He once again lost out to Sandy Koufax, whose Dodgers were in the rival National League. Kaat's performance, however, was impressive enough to see him finish fifth in MVP voting that year.
He would pitch for the Twins for seven more seasons, winning 190 games with the franchise, second only to the immortal Walter Johnson. Placed on waivers in the middle of the 1973 season, he would join the Chicago White Sox in August. The move briefly rejuvenated his career as he won twenty-one games in 1974 and twenty more in 1975. He would appear in his third and final All-Star game in '75 and would finish in the top five in Cy Young voting, but it would also be his final year as a dominant pitcher.
1976 saw his first visit to the National League, joining the Philadelphia Phillies. He would make a start for the Phillies in the National League Championship Series that year, giving up two runs in six innings. He left the game with a three-run lead, only to see the bullpen meltdown in an eventual 7-6 loss to the World Series bound Cincinnati Reds. He would never do better in Philly, seeing his ERA ballon to 5.39 the year after the post-season run and by 1979 he found his contract being sold to the New York Yankees.
His time in New York was brief, not lasting a full season, and a month into the 1980 campaign he would be sold to the St. Louis Cardinals.  He would play for the Cards until 1983, finally winning his first World Series in 1982.  He made four appearances out of the bullpen in the Series, three of them scoreless.  Only a disastrous seventh inning in game four, in which Kaat and two other Cardinal pitchers gave up six runs, marred his postseason.
He would retire following the 1983 season and would immediately begin a career as a broadcaster.  He first called Yankee games regularly in 1986, but by 1988 he had joined the booth of the Twins where he would remain until 1993. He would spend time with CBS, NBC and ESPN before returning to the Yankees in 1995 and would remain a stalwart of the New York broadcast team until 2006. Today, he still provides occasional color commentary for MLB Network as well as writes a blog for the MLBlogs Network, the official blog center for Major League Baseball.
Check in next time when we take a look at fan favorite, Minnie Minoso.
November 17, 2014-The lone executive on this year's ballot, Bob Howsam was born on February 28, 1918 in Denver, Colorado. At the tender age of twenty-one he married Janet Johnson, the daughter of Edwin Johnson, former (and future) Governor of his home state and United States Senator from Colorado at the time of the wedding.  Johnson had interests beyond politics, and was also a founder of the Class A Western League in 1947. Howsam had been a test pilot during World War II and after serving briefly as Johnson's personal assistant following the war, his father in-law tasked him with becoming the league's executive secretary during that initial year.
After the inaugural season, the owners of the Western League Denver Bears wanted to sell. Howsam convinced his own father to put up the $75,000 to purchase the team.  This opportunity for complete control, especially at such a young age, would make it more difficult for Howsam to work collaboratively later in life as his career progressed.  It would also prove to be one of the more successful stories to ever emerge from the minor leagues.
Howsam brought immediate results, building a new stadium for the Bears. The field, which would carry the team name for the first twenty years of its existence, eventually became known as Mile High Stadium in 1969, and would become more closely linked to the Denver Broncos.  Howsam, in fact, was the original owner of what is now one of the National Football League's premiere franchises, having won two Super Bowls and made twenty playoff appearances in their 55-year existence.
This foray into football was possible because in the ten years leading up to the Bronco's creation, Howsam had proved himself to be one of the most astute executives in Minor League baseball history. His commitment to providing fans with as professional an experience as possible, including a well-manicured stadium as well as clean, polite staff, led to the Bears drawing nearly a half a million fans in 1949, an astronomical total for a minor league team.  His success did not go unnoticed and in 1951 he was The Sporting News Single-A Executive of the Year.  The Bears would go on to win the Western League Championship in 1952 and 1954.
Capitalizing on his success, Howsam bought the American Association Kansas City Blues before the 1955 season, and moved them to Denver. There, they retained the Bears moniker and became the Triple-A affiliate of the New York Yankees. They would continue to lead the league in attendance and won the AA Championship in 1957.  In 1959, Howsam would win his second The Sporting News award, this time as a Triple-A Executive.
Howsam decided he was ready for the big time at this point and became a major force in the attempt to create the Continental League.  The CL was conceived as a rival third Major League, which would not only return a second franchise to New York City, but would include teams from Minneapolis, Houston, Toronto, Atlanta and Denver. Howsam rallied for the Denver franchise, but the expansion of the existing American and National Leagues killed that dream. Denver would have to wait thirty more years for big league baseball.
It was then that Howsam had his brief visit into professional football, owning the Broncos for a single year in 1960.  It was the lone time his business ventures were a failure, as the team cost him the bulk of his fortune.  He was forced to sell after that first season and was out of professional sports until 1964. Then, he got a call from Branch Rickey.  Howsam had gotten to know Rickey when the Bears had been an affiliate of the Pirates in the early 1950s. Now an executive consultant with the St. Louis Cardinals, Rickey convinced club owner August Busch to fire GM Bing Devine and bring in Howsam.
Howsam had the good timing of joining the club at a point in which their fortunes were on an upswing, and in his very first season the Cardinals won the World Series, defeating the New York Yankees in seven games.  Howsam, who made virtually no player moves after he joined the club in August of that year, credited Devine with the team's success.  The Cardinals would fall to seventh place the following year and Howsam began to shed the aging players on the team, bringing in Orlando Cepeda and Roger Maris in 1966. This would ultimately result in two more World Series appearances in 1967 and 1968, but by then Howsam had moved to Cincinnati.
Lured by more control and a bigger paycheck, Howsam took over the Reds in 1967. Again, he inherited a surfeit of talent. However, the team continued to perform below expectations, reaching no higher than third place during his first three years. It was in 1970, when Howsam decided to hire little known minor league skipper Sparky Anderson, that the most important piece of the famed "Big Red Machine" was in place. The Reds would have immediate success, winning 102 games that year before falling to the Baltimore Orioles in the World Series.
The Reds would go on to make four more post-season appearances before Howsam abdicated the role of GM in 1978, including World Series Championships in 1975 and 1976. But, the changing zeitgeist of baseball, specifically the advent of free agency, disturbed the controlling Howsam.  He saw this new era as one that would cede power to the players, and he gave his title to Dick Wagner while Howsam himself became vice-chairman of the board. He would return briefly to his GM position midway through the 1983 season, bringing Pete Rose back after a five year absence. However, despite the fact that the Reds were once again showing improvement in the standings, the sixty-seven year old Howsam would retire in the middle of the 1985 season.  Unlike many of his peers, his retirement was for real and Bob Howsam's days as a baseball executive were over, despite the fact that he lived another 23 years, dying in his home in Sun City, AZ in 2008.
Check in again soon as we take a look at 283 game winner, Jim Kaat.
November 10, 2014-Like our previously profiled candidate, Ken Boyer, the start of Gil Hodges storybook career was delayed by the reality of war. He was a youth of 19 when he played in one game for the Brooklyn Dodgers on the last day of the 1943 season. By opening day of the following year, he was in combat with the US Navy in the Pacific Theatre. His big league dreams would need to wait almost three and a half more years before they were allowed to continue.
When he returned to the Dodgers in 1947, it was as a back up catcher.  He appeared in only twenty-eight total games that season, and batted a paltry .156.  With the arrival of Roy Campanella in 1948, it became increasingly clear that if Hodges was going to get the playing time the team felt he deserved, a position change was in order. They began the transition to first base that season, and it would become his home for the majority of the remainder of his career.
Finally becoming a full-time player, Hodges began to put up the numbers to support the Dodgers' trust in 1949. That year he had the first of eleven straight 20+ home run seasons
and the first of seven straight 100+ RBI campaigns. He also appeared in his first All Star Game, an honor he would repeat seven more times (although he would only play in five of those games). His power numbers would continue to increase as well, hitting more than 200 home runs over the course of the next six seasons, including a career high 42 in 1954.
Over that span, his personality began to play as much of a role in his place on the Dodgers as his performance. Mild-mannered and an on-field peacemaker, even during his occasional slumps the people of Brooklyn embraced and supported Hodges as they had perhaps no other in their history. While Jackie Robinson provided the Dodgers with fire, and Pee Wee Reese offered the steady hand of leadership, it was Hodges who quickly came to symbolize the "heart" of Brooklyn.
By 1950 'dem bums had put together a dynasty and, along with Campanella, Reese, Robinson, Carl Furillo, Duke Snider, Don Newcombe, Preacher Roe and a host of other famous names, Hodges would play a major role in the Golden Age of New York baseball.  He would appear in six World Series with Brooklyn and a seventh in 1959 after the team made their famous trek across the country to Los Angeles. When the Dodgers finally ended 71 years of futility in 1955, it was Hodges who took the throw from Reese on Elston Howard's ground ball to secure the final out of game seven, allowing the club to hoist the first championship banner in their long history.
While never a league leader in any major offensive statistical category, he was often near the top of the annual power numbers.  He finished in the top ten in slugging in 1951-1954 and again in 1959, and in home runs from 1950-1954 as well as 1956. He missed the home run crown by just two round trippers in 1951, losing out to '50s powerhouse Ralph Kiner. He also performed well on the field, winning Gold Gloves in 1957 (the initial year of the honor), 1958 and 1959.
By 1960, age and injuries had started to hurt his performance and by the conclusion of the 1961 season, it was clear his time with the Dodgers was done. When the expansion draft of that year came around, the newly formed New York Mets grabbed Hodges, along with a host of other former New York stars, to help bring the fans out to the ballpark.  Little did they know that they would be securing one of the most beloved figures in Mets history. While only appearing in 54 games in 1962, he did hit the first home run in Mets history.  He also showed a level of leadership that would bring him back to the Mets six years later.
Batting just .227 two months into the 1963 season, it was clear that his time as a player was nearly over. When the Washington Senators made an offer to the Mets in May to trade Jimmy Piersall so that Hodges could become their new manager, New York brass agreed. Over the next five seasons Hodges would pull the wretched Senators out of the basement and bring them closer to respectability.  In each of the five years he led the team, their record improved. They went from a tenth place club with a .347 winning percentage in 1963, to a sixth place club with a .472 mark in 1967.
The Mets, however, had not forgotten the role he had played as a leader on their nascent club, and when they found themselves looking for a skipper before the 1968 season, they reached out to him.  Hodges still lived in Brooklyn and thought of New York as his home, so it was not a difficult decision for him to make. The results were immediate, as the club finished that year with a record of 73-89, 7 more wins than had ever before been achieved in club history. It was the following year, though, that would cement his legacy in Queens forever. Winning 100 games and pummeling the shocked Baltimore Orioles in the World Series, Hodges' Miracle Mets became World Champions in 1969 and forever became a "feel-good" part of baseball lore.
After the success of 1969, the following two seasons were a bit of a disappointment, as the Mets had identical 83-79 third place finishes both years. Then, prior to the start of the 1972 season, the unthinkable happened.  After a round of golf, Hodges died from a heart attack. The city of New York, as well as the world of baseball, were stunned. The beloved icon of two separate franchises was gone.
It is unlikely that anyone else has so often gotten as close to the Hall without actually being enshrined as Gil Hodges. He would first appear on a Hall of Fame ballot in 1969, when he got 24.1% of the vote.  The following year, after his success in the World Series, that support jumped to 48.3%. Those numbers would vacillate over the next fifteen years, getting as high as 63.4% in his final year of eligibility in 1983, but he never achieved the 75% needed from the Baseball Writers of America.  He would go on to appear on multiple Veteran's Committee ballots, sometimes coming within just a couple of votes of enshrinement.  Sadly for the Hodges family, as well as the thousands of individuals who have been mystified for years as to why he is still on the outside looking in, he has not achieved the magic number, yet.  Perhaps 2015 will be the year.
I'd like to give a huge thanks to baseball-reference.com, as well as the SABR Bio Project, two resources that have been invaluable to me as I create these bios. Check in next time when we look at the only executive on this year's ballot, Reds and Cardinals architect Bob Howsam.
November 8, 2014-Today we look at the second of ten candidates nominated by the Golden Era Veteran's Committee. Ken Boyer, like so many ball players from his time, had to delay his career for Uncle Sam. After two seasons in the minors, he spent two years with the Army overseas during the Korean War before returning to play minor league ball in 1954. Originally a pitcher, his coaches soon noticed that he was better at the plate than on the mound. When he finally joined the St. Louis Cardinals in 1955, he had been fully converted to a third baseman.
His rookie season was solid enough, hitting eighteen home runs, sixty-two RBIs and batting .264, but it was during his second year that Boyer began to establish himself as a hitter to be feared. Joining his first All-Star team, he hit .306 for the season, the first of five times he would break the .300 mark. His power also increased, raising his slugging average almost seventy points to .494.  Although his offensive numbers slipped in 1957, he proved his versatility by spending the year touring center field, a whole new position for him, where he led the league in fielding percentage.
A model of health and consistency, Boyer never appeared in fewer than 142 games in the eleven years he played for the Cardinals. He hit 24 home runs each of four straight seasons from 1961-1964 and appeared in ten more All-Star Games between 1959 and what would be his greatest season, 1964. That year he led the league in RBIs, knocking in a career high 119. He was awarded his sole MVP title for his efforts, but it was his post season that would forever make him a part of Cardinal lore.
His grand slam in game four of the '64 World Series accounted for the total of the Cards offense and allowed them to beat the Yankees 4-3, evening up the Series at two games apiece. Then, in the climactic game seven, Boyer's seventh inning home run gave Series MVP Bob Gibson some breathing room and helped secure the Redbirds seventh Championship. He and his Yankee brother, Clete, also hold the distinction of being the only siblings to both homer in a World Series game.
He would be with the Cardinals for one more season before he was traded to the New York Mets in 1966. Only two years removed from his MVP, the hope was that Boyer's experience and success would bring some legitimacy to the struggling Mets, whose ineptitude had evolved from the lovable to the laughable by their fifth season. Unfortunately for the Mets, and Boyer, his greatest years were behind him.  After a respectable but uninspiring initial season (.266/14/61), Boyer would play 56 more games for the club in 1967 before being traded to the Chicago White Sox. There, the cycle would repeat itself and in May 1968, after being released by the Sox,  Boyer was off to the Los Angeles Dodgers. He would finish his playing career in LA, retiring at the end of the following season after hitting an abysmal .206.
Boyer would stay active in baseball and in 1978 became the manager of his beloved Cardinals, taking over when the previous skipper, Vernon Rapp, was fired just a few weeks into the season.  His most successful year as a manager was the 1979 campaign, when he finished with an 86-76 record, 12 games behind the division champion Pittsburgh Pirates. The Cardinals began the 1980 season with a record of 18-33 and Boyer was shown the door, although he stayed active within the organization until his death on September 7, 1982, from lung cancer. His WAR during the years he played for the Cards was 58, ranking him sixth all-time in the history of the franchise, behind Stan Musial, Rogers Hornsby, Bob Gibson, Albert Pujols and Ozzie Smith and just ahead of Enos Slaughter.
Join us next time when we take a look at Dodger and Mets legend, Gil Hodges.
November 6, 2014- The Golden Era Veteran's Committee at the Hall of Fame has announced their slate of ten candidates for 2015 and The Hall Ball has decided to jump into the dangerous and murky waters of taking a peek at their careers. At The Hall Ball, we try to not spend too much time judging who does and does not belong in the Hall.  Not only is it a philosophical exercise that, for the most part, does not have a wrong or right answer (okay, Morgan Bulkeley does NOT belong, but that's as far as we're going), but it's not like we get a vote. However, that doesn't mean we can't examine the accomplishments of the men being considered this year and explore the reasons why they are on the cusp of baseball's greatest honor.
We begin with Dick Allen, who made his major league debut with the Philadelphia Phillies in 1963, appearing briefly in ten games, before becoming a full time player the following year. A dominant slugger in the minors, there was great anticipation about Allen at the start of the '64 season. He did not disappoint, leading the league in Runs, Triples and Total Bases and taking home Rookie of the Year honors. He also hit .318, the first of seven seasons in which he would top the .300 mark.
Powerfully built, Allen hit 20+ home runs in his first nine full seasons and ten times overall. He would lead the league in slugging three times, including an incredible 1966 campaign in which he hit 40 home runs and knocked in 110 RBIs.  He finished fourth in MVP voting that year, but a mere two years later his batting average had dipped to .263 and, despite hitting 33 home runs and ninety RBIs, he also struck out a career-high 161 times. His lower numbers, coupled with his ongoing personal conflicts with the Phillies, resulted in him being traded to the St. Louis Cardinals prior to the 1970 season in one of the most important trades in Major League Baseball history.  The Cardinals attempted to include Curt Flood in the deal and Flood's refusal to report, and the ensuing legal battle, opened the door for Dave McNally and Andy Messersmith to finally defeat the dreaded Reserve Clause six years later.
Allen, meanwhile, had a brief stay with the Cardinals. A 1970 All-Star, he also topped 100 RBIs and hit 34 home runs, but he still found himself being traded to the Dodgers for the 1971 season. Now 29, his single season in Los Angeles saw his average climb back up to .295, but the following year found him on his fourth team in four years. Now a member of the Chicago White Sox, and first time American Leaguer, Allen feasted on AL pitching and had the best season of his career. He led the league in home runs, RBIs, walks, on-base percentage, and slugging.  He finished just .010 points behind Rod Carew for the batting title, missing the Triple Crown but securing the MVP award for the first and only time in his career.
His time in Chicago was a renaissance for Allen, despite missing a large portion of the 1973 season due to a broken leg. He would bat over .300 in each of the three seasons he was with the Sox and would lead the league in home runs and slugging again in 1974. Despite his success that season, Allen announced in September that he would be retiring at the end of that year. However, failing to file the proper paperwork, Allen was still under contract with the White Sox in December, who chose to trade him to the Atlanta Braves. Having endured virulent racism throughout his career, Allen refused to report to Atlanta and the Braves responded by trading him back to Philadelphia, where his career had began.
By then, however, age and injuries had finally caught up to the slugger and he was just a shadow of his former self. He stuck with the Phillies until 1976 and even appeared in 54 games for his final team, the Oakland Athletics, in 1977 before finally calling it a career mid-season. He would retire with a career batting average of .298, and hit 351 home runs and 1119 RBIs in fifteen seasons. His lifetime oWAR of 69.9 is 60th all-time and neatly sandwiches him between Hall of Famers Roberto Alomar and Johnny Mize.
According to his SABR bio, Allen and his wife now split their time between their homes in his native Wampum, PA and Los Angeles. While his career was shorter than most Hall of Famers, resulting in lower cumulative numbers than most voters like to see these days, Allen was a dominant hitter during a period of baseball history that was better known for its amazing pitching feats. Because of the new structure of Veteran's Committee voting enacted in 2010, this year marks the first time Allen has been eligible for election since 2008, when he received the fewest votes of the ten candidates, none of whom were ultimately chosen.
That's all for now, but stop by again soon as we take a look at the next candidate, Cardinals great, Ken Boyer.
October 19, 2014- An incredibly successful weekend for The Hall Ball Project.
Since the dedication ceremony for Sol White's headstone, I have peripherally been a part of Jim Overmyer's search for Sol's descendents. He's kept me in the loop as he discovered that, despite most of the conventional wisdom, it's very possible that there is a living grandchild of the 19th century Negro League pioneer walking around right now who has no idea of their pedigree.  Jim discovered Sol's marriage certificate and learned from the census that he and his wife did in fact have a daughter, Marian. The New York Amsterdam News mentions in his 1955 obit that her name was also Mrs. Charles Ewell.  Jim went on to learn that she and her husband lived in Philadelphia for almost 40 years before they both disappear. No obituary for either has been discovered, yet, although a Marian Ewell did die in 1992 in Pittsburgh, almost five hours away from Philly.
Tired of sitting on the sidelines, I went down to Philadelphia to see what I could discover.  Unfortunately, birth and death records are locked up pretty tight in Pennsylvania.  A visit to the city archives was fruitless because they only have records until 1915. The city Department of Health, where more modern records are housed, was equally disappointing as they will only release them to family (a bitter irony).  I proceeded to the Free Library of Philadelphia where, after bumping into Cornel West in the lobby, I spent a couple of hours in front of a microfilm machine. There, I confirmed the earlier find that Marian and Charles did in fact live at 1603 Oxford St from 1950 until at least 1990.
Still having no new information, I decided to visit the house they owned. It was in a particularly blighted section of town, with multiple neighboring houses completely boarded up. I was pleased to discover that 1603, however, was still active.  Currently, it contains a group of Temple University students.  None had lived there for more than few months, but they did share the name and number of their landlord.  I spoke to him briefly yesterday and he asked for me to call him back on Monday when he was in the office and could look at the paperwork.  He does remember buying the house in 2008 from a police auction.  I visited the rest of the houses on the block to see if anyone had been living there in the 1990s who might recall Charles and Marian, but none of the residents had been there for more than a few years.
Disappointed that I hadn't learned more, but optimistic that the landlord will be able to get me back a few more years on the house, I ended my search for the day.  It was small progress, but progress nonetheless.  If they lived in the house for forty years, there has to be a paper trail.  If there was a child, I should be able to discover what school he or she attended.  We still do not know if Sol has a descendent, but all avenues have not been closed to us.  The hunt continues!

Saturday and Sunday marked the Fanatics Authentic Sport Spectacular in nearby Oaks, PA. While there were a number of Hall of Famers in attendance, there were two in particular in which I was interested.  I am very pleased to announce that 211-Mike Schmidt and 212-Bob Gibson are now a part of The Hall Ball.  Gibson was particularly exciting as I have attempted to get him three times in the past without any success.  This means that we have now photographed 53 living members (two, Ralph Kiner and Tony Gwynn, have subsequently passed). It also means that there are now only 15 more living members for that phase of the project to be complete!
I'd like to give a huge thanks to the folks at Fanatics Authentic for their help with Schmidt.  It was the first time I had attended one of their shows and their guest list, as well as their vendors, were impressive. I even got to see my third, real live T206 Honus Wagner.
That's all for now, but stay tuned everyone.  There's some big announcements coming down the pike, including an important update about Cuba.  If I don't check in before Tuesday, enjoy the first game of the World Series!
October 11, 2014- Just for fun, we've made a collage of the first 100 photos we took for the project.  Tell us what you think.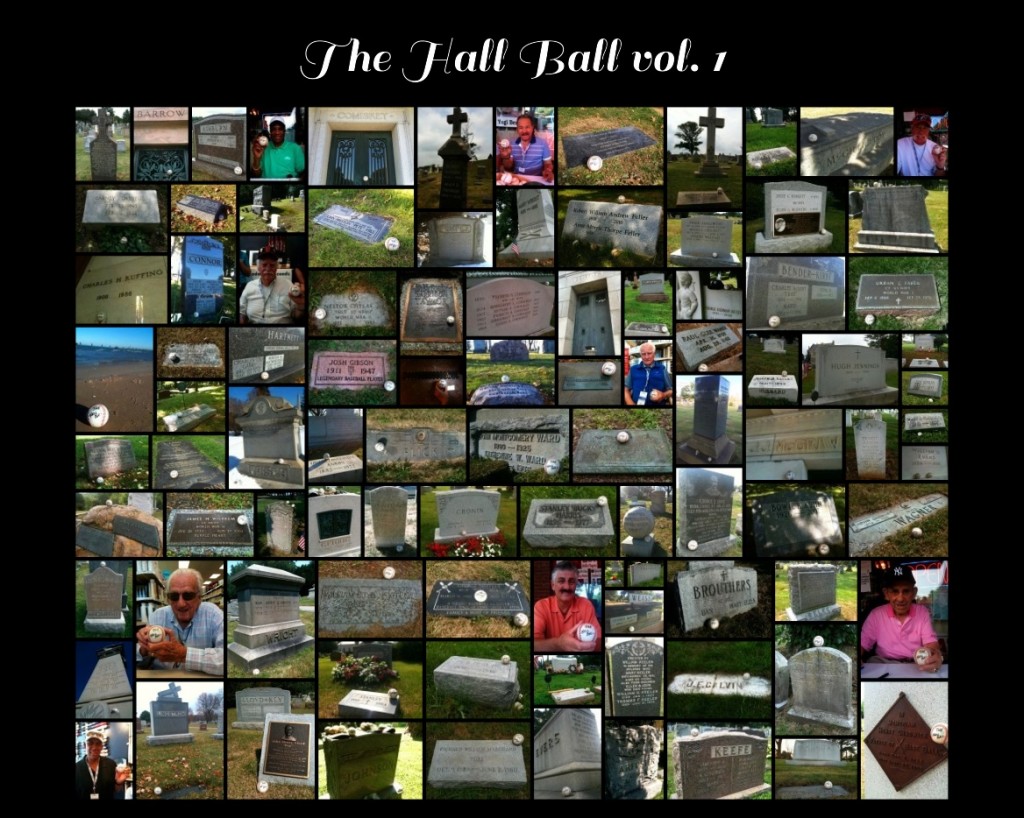 October 4, 2014-In-between Hall Ball trips, I have been working on an exciting project called Protoball. Begun by SABR historian Larry McCray nearly a decade ago, it is a very ambitious database that seeks to compile every team and game of baseball (and its predecessors) before it became a professional enterprise in 1871. The site counts on local historians to access hometown media records to help make the examination of the spread of the game as comprehensive as possible. Despite (or perhaps because of) its importance as the cradle of the game, the Greater New York City area and the mountain of data that went with it has been relatively unclaimed. John Zinn, who has literally written the book on New Jersey, is tackling the Garden State. Richard Hershberger and the late Craig Waff have done marvelous jobs of compiling teams and a great majority of the games played up to 1860 in GNYC, but none of the data has been linked to each other.  I have been performing the sometimes frustrating task of linking the hundreds of clubs to the 1300 games, all while looking out for the duplicates that are always a risk with a wiki. I have also been researching and inputting new information on Manhattan, Brooklyn and Staten Island. This includes the names of hundreds of players who never made a dime from the game, but had a hell of a time doing it. It has been a crash course in the evolution of the sport, and I am excited to be a part. Just when you think you know everything, there's always something else to learn.
For example, I now have a new favorite old-timey team. Well, perhaps favorite isn't the right word, considering that the Mutual Club of New York was founded in 1857 by Tammany Hall cronies.  Boss Tweed himself was on the Board of Directors. Featuring a cast of characters that included the obligatory combative (and drunk) Irishman, cops, politicians, butchers, coroners and many more, they are a rare example of a team surviving through multiple epochs of baseball's adolescence.  When most teams were weakened by the Civil War, the Mutual's connections kept many of them from the front lines.  They were still able to field a solid nine and capitalized on their success. When baseball officially became a profession in 1871 with the forming of the National Association of Professional Baseball Players, they were a founding club of the NA, recognized as the first Major League.  They even spent a single season in the subsequent and still existent National League when it was founded in 1876.  Unfortunately for the Mutuals, the more professional their opponents became the less successful they were, suffering a dreadful 21-35-1 season in their lone year in the NL.  Deciding that the costs of the travel were not going to be offset by the ticket sales his club inspired (teams shared the gate receipts back then) manager William Cammeyer chose to not send his team on their final road trip.  Defying league rule, the team was kicked out. As a result, not a single team from the city of New York was represented in the Major Leagues in 1877, and wouldn't until the New York Gothams joined the NL in 1883. Coincidentally, 1876 marked the last time Boss Tweed walked on this earth a free man. After escaping authorities, he was re-incarcerated in November and died in prison two years later. The Mutuals never recovered either.
Side note. Those 1883 New York Gothams have evolved into the team that is currently in the middle of the 15th inning of their second game against the Washington Nationals in the 2014 Division Series. Gotta love this game.
If you get a chance and would like to dive into some real baseball esoterica, stop by Protoball.  I promise you won't be disappointed.
September 13, 2014-We've just discovered that our trip to Cuba, which was tentatively scheduled for February, is actually happening in November. Only two months away! We need your help.  If you've been thinking of donating, now is the time. If you haven't visited our gofundme page, stop on by and find out about the amazing rewards you can get for your donation.  But, even more importantly, you get to become a part of the first crowd-sourced artifact ever donated to the Baseball Hall of Fame.  How cool is that?
Special thanks to All-Star Bill Cornell for his donation today.  Visit our thanks page to find out who else is joining us on our trip to the Hall.
September 3, 2014-Lots of updates to the website today, including bios for Richie Ashburn, Johnny Bench, Bert Blyleven, George Brett, Joe McCarthy, Sam Thompson, Lloyd Waner and Hack Wilson. Even more exciting, we've added 48 more photos of the Ball with your favorite Hall of Famers.  In addition to the names above, you can now also view the ball with Dave Bancroft, Jimmy Collins, Charles Comiskey, Kiki Cuyler, Rube Foster, Lou Gehrig, Charlie Gehringer, Josh Gibson, Pat Gillick, Burleigh Grimes, Jesse Haines, Harry Heilmann, Whitey Herzog, Pete Hill, Reggie Jackson, Walter Johnson, Judy Johnson, Al Kaline, Buck Leonard, Larry MacPhail, Mickey Mantle, Juan Marichal, Rube Marquard, Joe Morgan, Hal Newhouser, Phil NIekro, Hank O'Day, Jim Palmer, Alex Pompez, Ron Santo, Louis Santop, Al Simmons, Enos Slaughter, Turkey Stearnes, Ben Taylor, Frank Thomas, Joe Torre, Willie Wells, Smokey Joe Williams, Jud Wilson, Hack Wilson and Early Wynn.
Be sure to check out Santo and Wynn.  They were both cremated and their ashes were spread in very special places.
Keep checking in.  With 210 of the 306 Hall of Famers already a part of the project, there's even more to come as we make the final push for the completion of The Hall Ball.
August 30, 2014-Hall Ball creator Ralph Carhart has taken the #icebucketchallenge.  Take a peek at http://youtu.be/L8BmM4jl3hU. If you like it, spread the word. #ALSIronHorse
In an effort to do something different with his video he decided to "choose to nominate no one to follow me. Instead, I want to ask each of you that has the ability to throw an extra $25 to a charity you believe in to please do so. No video necessary (although I do appreciate the more creative ones). I did, in fact, give my money to ALSA because… well, watch the video and you'll understand."
August 23, 2014-The journey of The Hall Ball has been filled with a number of amazing "small world" stories, like many baseball tales. There are, after all, only a finite number of men who have played the game professionally and winnowing them down to the 306 individuals in the Hall makes the pool even smaller. But something downright bizarre happened in Bloomington, IL that reached far beyond the game.
Charles "Old Hoss" Radbourne is buried in Evergreen Memorial Cemetery in Bloomington.  Yesterday he became either number 208 or 209, depending on the Chicago Cubs, in the quest to complete The Hall Ball (explanation to come later-a different story).  I was waiting for Jeremy Krock, the founder of the amazing Negro Leagues Baseball Grave Marker Project, to join me on my visit to Old Hoss and struck up a conversation with the woman who ran the cemetery.
She knew where and who Radbourne was immediately and she asked where the idea for the project came from. I told her the story of our discovery of the grave of Abner Doubleday (1757-1812), "our" Abner's grandfather. (If you want the whole tale go here.) That's when she cried, "Oh, yes, Abner's father is buried here."
I was certain she was confused.  It just couldn't be possible.  The National Geological Survey claims there are 109,000 cemeteries in the United States.  For me to accidentally stumble on grandpa was unusual, although somewhat explainable by location.  For me to then, four years later, as I begin what will hopefully be the final leg of this journey, also trip over his father's grave 782 miles away borders on the divine.
She wasn't confused.  She showed me the booklet she had written about some of the other more famous interments, which included Adlai Stevenson and Dorothy Gage, the five month old infant who inspired the name of L. Frank Baum's Oz heroine.  She knew exactly what she was talking about.  Sadly, however, she did not have an exact location of the grave.
Ulysses Doubleday (1792-1866) was a successful printer apprenticing in Cooperstown before moving on to become an editor in Ballston Spa and Auburn, NY. In 1831 he became a member of the United State House of Representatives. But, in 1837, he lost his fortune when the Stock Market crashed.  He spent time as a merchant and farmer, but never recovered his wealth. When he retired he moved to Bloomington and when he died he was either buried without a marker, or with one so modest that it has since been swallowed up by the earth. The photo below is of the general area in which he lays.
There are a number of obstacles that stand in my way when it comes to successfully completing this project.  I still don't know how I'm going to pay for the thing and I need the cooperation of a number of the more reclusive living members of the Hall.  But, I just have to believe that if the fates are going to have serendipity like this be a part of the story, it is meant to get done.
You can help.  Tell your friends.  Become a part of the journey.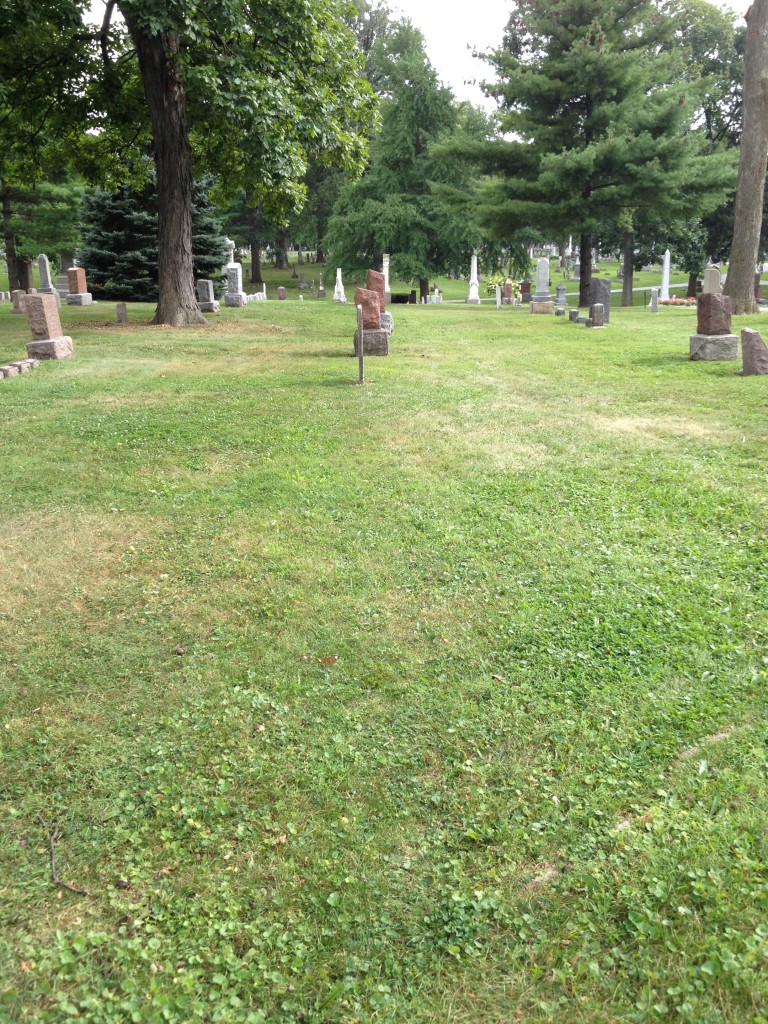 August 14, 2014-After a brief hiatus (we took a small break to direct a play about potential Hall of Famer, Dummy Hoy), The Hall Ball is back in full force and there's lots of exciting things happening!
We crossed the second century mark over the last two days as we took photos of 195-Joe McCarthy, 196-Jimmy Collins, 197-Turkey Stearnes, 198-Charlie Gehringer, 199-Harry Heilmann, 200-Hal Newhouser and 201-Sam Thompson.  Bios and photos will be uploaded soon, so be sure to check back often.
We'll also be reporting on all of the presentations from the 17th Annual SABR Jerry Malloy Conference on Negro Leagues Baseball in Detroit, MI on our facebook page, so be sure you "like" us in order to get all the lowdown.
After the Conference our journey will continue through Northern Michigan, Wisconsin and Illinois as we complete the first of the ten final trips in the adventure of The Hall Ball.  Stay tuned for all the updates.