Fished from the small creek that runs next to Doubleday Field in Cooperstown, NY, a simple baseball has turned into an epic quest spanning across the United States of America and beyond.  Since August 2010, The Hall Ball has criss-crossed the country on a journey to have its picture taken with each member of the Baseball Hall of Fame, both living and deceased. Now, The Hall Ball is in its final stages before it is ready to be donated to National Baseball Hall of Fame.  Upon acceptance, The Ball would become a part of the permanent collection. The stories that accompany its journey are as varied, funny, moving and powerful as any in the history of the game.  Please explore to learn more about The Hall Ball Project, the members of the Hall and to discover what you can do to contribute to the completion of the first crowd-sourced artifact donated to the National Baseball Hall of Fame.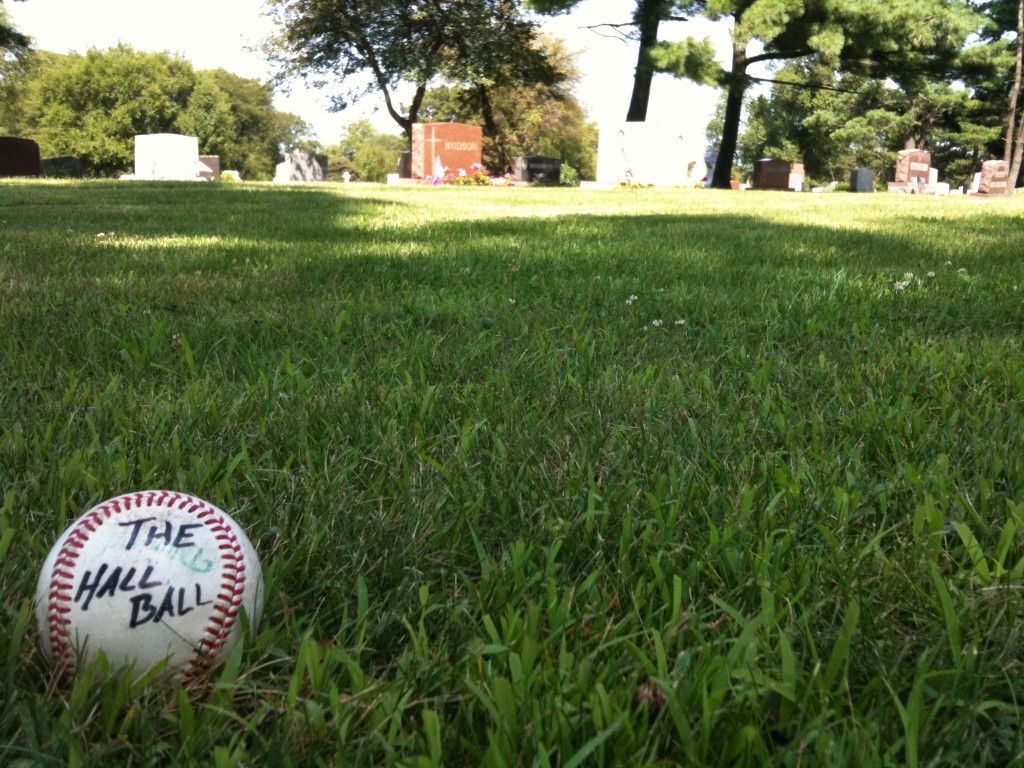 September 13, 2014-We've just discovered that our trip to Cuba, which was tentatively scheduled for February, is actually happening in November. Only two months away! We need your help.  If you've been thinking of donating, now is the time. If you haven't visited our gofundme page, stop on by and find out about the amazing rewards you can get for your donation.  But, even more importantly, you get to become a part of the first crowd-sourced artifact ever donated to the Baseball Hall of Fame.  How cool is that?
Special thanks to All-Star Bill Cornell for his donation today.  Visit our thanks page to find out who else is joining us on our trip to the Hall.
September 3, 2014-Lots of updates to the website today, including bios for Richie Ashburn, Johnny Bench, Bert Blyleven, George Brett, Joe McCarthy, Sam Thompson, Lloyd Waner and Hack Wilson. Even more exciting, we've added 48 more photos of the Ball with your favorite Hall of Famers.  In addition to the names above, you can now also view the ball with Dave Bancroft, Jimmy Collins, Charles Comiskey, Kiki Cuyler, Rube Foster, Lou Gehrig, Charlie Gehringer, Josh Gibson, Pat Gillick, Burleigh Grimes, Jesse Haines, Harry Heilmann, Whitey Herzog, Pete Hill, Reggie Jackson, Walter Johnson, Judy Johnson, Al Kaline, Buck Leonard, Larry MacPhail, Mickey Mantle, Juan Marichal, Rube Marquard, Joe Morgan, Hal Newhouser, Phil NIekro, Hank O'Day, Jim Palmer, Alex Pompez, Ron Santo, Louis Santop, Al Simmons, Enos Slaughter, Turkey Stearnes, Ben Taylor, Frank Thomas, Joe Torre, Willie Wells, Smokey Joe Williams, Jud Wilson, Hack Wilson and Early Wynn.
Be sure to check out Santo and Wynn.  They were both cremated and their ashes were spread in very special places.
Keep checking in.  With 210 of the 306 Hall of Famers already a part of the project, there's even more to come as we make the final push for the completion of The Hall Ball.
August 30, 2014-Hall Ball creator Ralph Carhart has taken the #icebucketchallenge.  Take a peek at http://youtu.be/L8BmM4jl3hU. If you like it, spread the word. #ALSIronHorse
In an effort to do something different with his video he decided to "choose to nominate no one to follow me. Instead, I want to ask each of you that has the ability to throw an extra $25 to a charity you believe in to please do so. No video necessary (although I do appreciate the more creative ones). I did, in fact, give my money to ALSA because… well, watch the video and you'll understand."
August 23, 2014-The journey of The Hall Ball has been filled with a number of amazing "small world" stories, like many baseball tales. There are, after all, only a finite number of men who have played the game professionally and winnowing them down to the 306 individuals in the Hall makes the pool even smaller. But something downright bizarre happened in Bloomington, IL that reached far beyond the game.
Charles "Old Hoss" Radbourne is buried in Evergreen Memorial Cemetery in Bloomington.  Yesterday he became either number 208 or 209, depending on the Chicago Cubs, in the quest to complete The Hall Ball (explanation to come later-a different story).  I was waiting for Jeremy Krock, the founder of the amazing Negro Leagues Baseball Grave Marker Project, to join me on my visit to Old Hoss and struck up a conversation with the woman who ran the cemetery.
She knew where and who Radbourne was immediately and she asked where the idea for the project came from. I told her the story of our discovery of the grave of Abner Doubleday (1757-1812), "our" Abner's grandfather. (If you want the whole tale go here.) That's when she cried, "Oh, yes, Abner's father is buried here."
I was certain she was confused.  It just couldn't be possible.  The National Geological Survey claims there are 109,000 cemeteries in the United States.  For me to accidentally stumble on grandpa was unusual, although somewhat explainable by location.  For me to then, four years later, as I begin what will hopefully be the final leg of this journey, also trip over his father's grave 782 miles away borders on the divine.
She wasn't confused.  She showed me the booklet she had written about some of the other more famous interments, which included Adlai Stevenson and Dorothy Gage, the five month old infant who inspired the name of L. Frank Baum's Oz heroine.  She knew exactly what she was talking about.  Sadly, however, she did not have an exact location of the grave.
Ulysses Doubleday (1792-1866) was a successful printer apprenticing in Cooperstown before moving on to become an editor in Ballston Spa and Auburn, NY. In 1831 he became a member of the United State House of Representatives. But, in 1837, he lost his fortune when the Stock Market crashed.  He spent time as a merchant and farmer, but never recovered his wealth. When he retired he moved to Bloomington and when he died he was either buried without a marker, or with one so modest that it has since been swallowed up by the earth. The photo below is of the general area in which he lays.
There are a number of obstacles that stand in my way when it comes to successfully completing this project.  I still don't know how I'm going to pay for the thing and I need the cooperation of a number of the more reclusive living members of the Hall.  But, I just have to believe that if the fates are going to have serendipity like this be a part of the story, it is meant to get done.
You can help.  Tell your friends.  Become a part of the journey.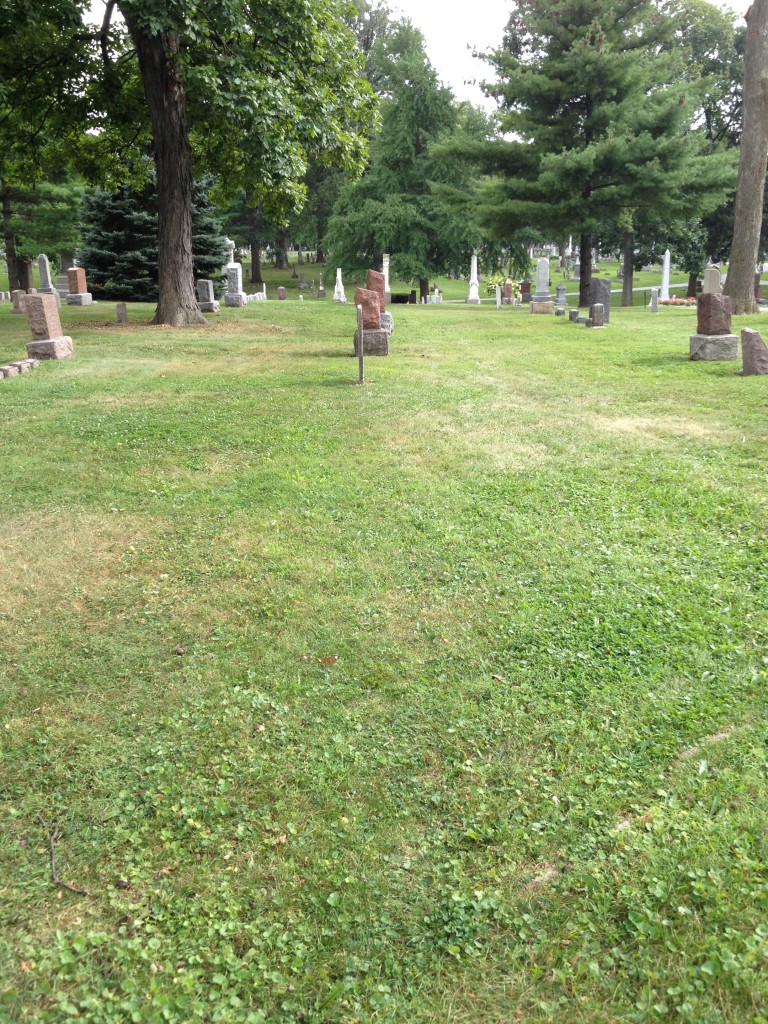 August 14, 2014-After a brief hiatus (we took a small break to direct a play about potential Hall of Famer, Dummy Hoy), The Hall Ball is back in full force and there's lots of exciting things happening!
We crossed the second century mark over the last two days as we took photos of 195-Joe McCarthy, 196-Jimmy Collins, 197-Turkey Stearnes, 198-Charlie Gehringer, 199-Harry Heilmann, 200-Hal Newhouser and 201-Sam Thompson.  Bios and photos will be uploaded soon, so be sure to check back often.
We'll also be reporting on all of the presentations from the 17th Annual SABR Jerry Malloy Conference on Negro Leagues Baseball in Detroit, MI on our facebook page, so be sure you "like" us in order to get all the lowdown.
After the Conference our journey will continue through Northern Michigan, Wisconsin and Illinois as we complete the first of the ten final trips in the adventure of The Hall Ball.  Stay tuned for all the updates.