Fished from the small creek that runs next to Doubleday Field in Cooperstown, NY, a simple baseball has turned into an epic quest spanning across the United States of America and beyond.  Since August 2010, The Hall Ball has criss-crossed the country on a journey to have its picture taken with each member of the Baseball Hall of Fame, both living and deceased. Now, The Hall Ball is in its final stages before I attempt to donate it to the National Baseball Hall of Fame.  The stories that accompany its journey are as varied, funny, moving and powerful as any in the history of the game.  Please explore to learn more about The Hall Ball Project, the members of the Hall and to discover what you can do to contribute to the completion of the first crowd-sourced artifact donated to the National Baseball Hall of Fame.
To find out about the history of The Hall Ball, go here.
To see all of the photos at once, visit our flickr page.
To stay current with all the latest on The Hall Ball, Like us on facebook.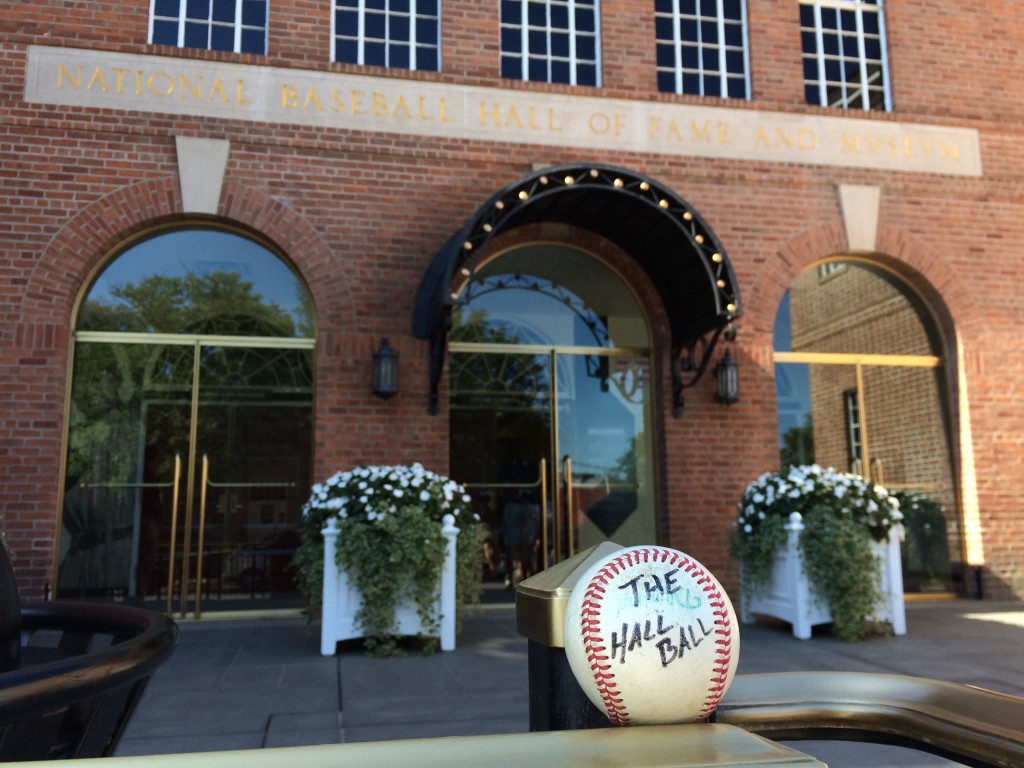 November 11, 2015-With the rainy chill of November settling in, we are in that brief period of mourning that accompanies the end of the baseball season. My beloved Mets gave a convincing postseason performance, until all of their flaws became clear and the magic disappeared in five quick games to the Royals. Despite the lopsided four games to one result, it is worth noting that of the 52 innings played in the Series, sixteen of those innings were tied. Of the remaining 36, the Mets held the lead in 24 of them. With a core of five talented, young starting pitchers (when Zack Wheeler returns in June), one cannot help but consider the future bright for the Metros.
In fact, one need not waste much time to mourn the end of 2015 no matter your team, as the the bird called 2016 already begins to stir from the ashes. It is no mistake that the capital of Arizona, home state of the noteworthy Fall League that is currently three weeks into its season, is Phoenix. In team offices around the country, the wheeling and dealing of the Hot Stove is slowly rolling into motion. And, most notably to The Hall Ball, it is election time in Cooperstown.
Just yesterday, the ballot for this year's election by the BBWAA was officially released. Ken Griffey Jr. and Trevor Hoffman seem likely first ballot shoo-ins, though Hoffman may have to wait a year while baseball continues to debate the role of the closer. The math also looks good for Mike Piazza, whose percentages have been climbing steadily since he was first eligible. Casting aside all superstition, I don't mind saying that the prospect of having the Mets appear in the World Series the same year they finally get their second inductee in the Hall (only Tom Seaver wears a Mets cap on his plaque), is enticing.
The other portion of Hall voting, the Veteran's Committee, announced their slate at the beginning of the postseason. This year's ballot, of the awkwardly titled Pre-Integration Era, features some prominent names from 19th century baseball, a favorite time period of mine. Bill Dahlen, Harry Stovey, and Chris von der Ahe all had indelible impacts in the nascent years of Major League Baseball, and could be considered legitimate inductees. Interestingly though, in a nearly unprecedented move, the name that looms the largest for me never spent a moment of his life affiliated with MLB. In fact, he likely never made a dime from the game, with the exception of charging clubs for the balls he provided.
Daniel Lucius "Doc" Adams was an influential early member of the New York Knickerbockers Base Ball Club, the team that for many years was credited as being the "first" baseball team. We now know that there were many teams that came before the Knicks, though none kept as meticulous a record. The Knicks also played a vital role in the formalization and adaptation of the rules of the game as we understand them today. In appreciation of this role, founding Knickerbocker Alexander Cartwright was elected into the Hall in 1938. To this day, other than pioneer scribe Henry Chadwick, Cartwright remains the only member of the Hall who was never affiliated with either the Negro Leagues or Major League Baseball.
Unfortunately, virtually everything on Cartwright's plaque is a lie. He did play a role in bringing the game to the West Coast and he definitely heavily influenced its introduction to the state of Hawaii. But all of the rest, the distance between the base paths, the number of innings and players per side in a game, should be credited to other men, the most predominant of which is Adams. In fact, by the time these rules were adopted, Cartwright had left New York and headed out west, spreading the gospel of the game as he he mined for gold in them thar hills of San Francisco.
It was Doc Adams who declared the bases should be set 90 feet apart, who was instrumental in the adaptation of the fly rule (originally, a ball caught after a single bounce was called an out), who served as club president and representative at the early, rule-establishing conventions of the pre-professional National Association, and who also invented the role of shortstop. And these are just the highlights. Few in the Hall can boast of as influential a resume.
I have gotten a chance to know Marjorie Adams, Doc's great-granddaughter. I was first introduced to her at the 2014 Frederick Ivor-Campbell 19th Century Base Ball Conference, where she played the role of Doc in an "interview" with historian Gary "Pops" O'Maxfield. She has been instrumental in the campaign to get Doc his recognition. Nicknamed "Cranky" (a double entendre on an old-fashioned term for a baseball fan as well her irascible personality), Marjorie has the kind of tenacity you would want in an advocate. Her story was covered in a recent New York Times and if Doc is elected, she is perhaps the one who deserves the most credit.
It is not often that I get personally invested in who does or does not get elected. It's a complicated question with rarely universally accepted answers. But, I have to admit that I hope to take the ball back to Evergreen Cemetery in New Haven, burial place of Adams. Yankee (and Met) architect George Weiss is buried there and was photographed for the project in September, 2010.
This time, it is my wish to take a photo of the ball with the kin of an immortal by my side. I had this honor once, in Cuba, at the grave of Martin Dihigo, and it brings a profound feeling of poignancy to the moment. The goal of the project has always been to keep the stories of all of the members of the Hall alive. But, no legacy can match that of a child, and Marjorie is a direct link to the story of Doc and thus, the story of baseball.
September 23, 2015-By July 2011 I had been working on the Hall Ball for almost a year. I had traveled throughout eight different states and had visited the graves of sixty-four Hall of Famers. The one part of the project that I had not begun to address, however, was photographing the living players. With the upcoming induction of Roberto Alomar, Bert Blyleven and Pat Gillick, I decided the best place for me to begin was a visit to Cooperstown.
Induction weekend is a baseball fan's dream, and potentially an agoraphobic's nightmare. Depending on the year, the tiny town's streets can be packed to capacity. I waded my way through the thick crowd and met with Sue McKay, the head of accessions at the Hall of Fame, to explain the project and see if the Hall would be able to help me with access to any of the players. Sadly, the Hall has a very strict policy regarding player contact and she stated it would be impossible. However, she said brightly, it was induction weekend, so I should just hit the streets and see who I could find.
As soon as I stepped into the bright sunshine I saw a cluster down the street in front of one of the town's many restaurants. I wandered over and discovered what the fuss was all about. It was a Hall of Famer, all right. And not just any Hall of Famer. It was one of the most iconic, recognizable, beloved of all Hall of Famers. It was, of course, Yogi Berra.
Yogi was charging the usual autograph fees, but for dropping a small donation for local sports programs into the bucket in front of him, he was willing to pose for a picture. And that was how, with no fanfare and just minutes after learning I was on my own for the project, I took the first picture of a living member of the Hall.
He didn't say much. I hadn't perfected my rap yet (the brief speech I give each member when I approach them about getting the photo), so I simply asked for the picture and gave him no details. He obliged with a smile, his hat slightly askew, becoming the first of many players who were somewhat confused as to why I wanted just the picture and not their autograph to go with it.
Like every other decent American, I have always loved Yogi. He is, of course, a Yankee icon. But his final nine at bats in the majors took place in 1965 as a member of the Mets. He was the first base coach for the Amazins during their miracle season of 1969 and he took over managing duties upon the untimely death of Gil Hodges, leading the squad to the 1973 World Series. His contribution to New York baseball is unmatched.
His death yesterday marks the fourth time that a member of the Hall has died after I photographed them for the project. The others were Ralph Kiner, Tony Gwynn, and Ernie Banks. Each time this happens I say a prayer of thanks to the baseball gods for giving me the briefest of moments to observe these legends while I still had the chance. I repeated that prayer this morning.
I am often unhappy with the photos I've taken of living members. I am not a professional photographer and, in the staging of the photos, speed is of the essence. That means that each picture for The Hall Ball has been snapped with my iPhone, leading to mixed results in the relatively low light of a convention center. The photo of Yogi was taken outside, under the forgiving light of the sun, and is one of my favorite shots in the whole project. Crisp and clear, each line in the weathered face of a man who looks considerably like my own grandfather, helps tell his story.
A story, I may add, that will never be duplicated. Farewell, Yogi, and thanks.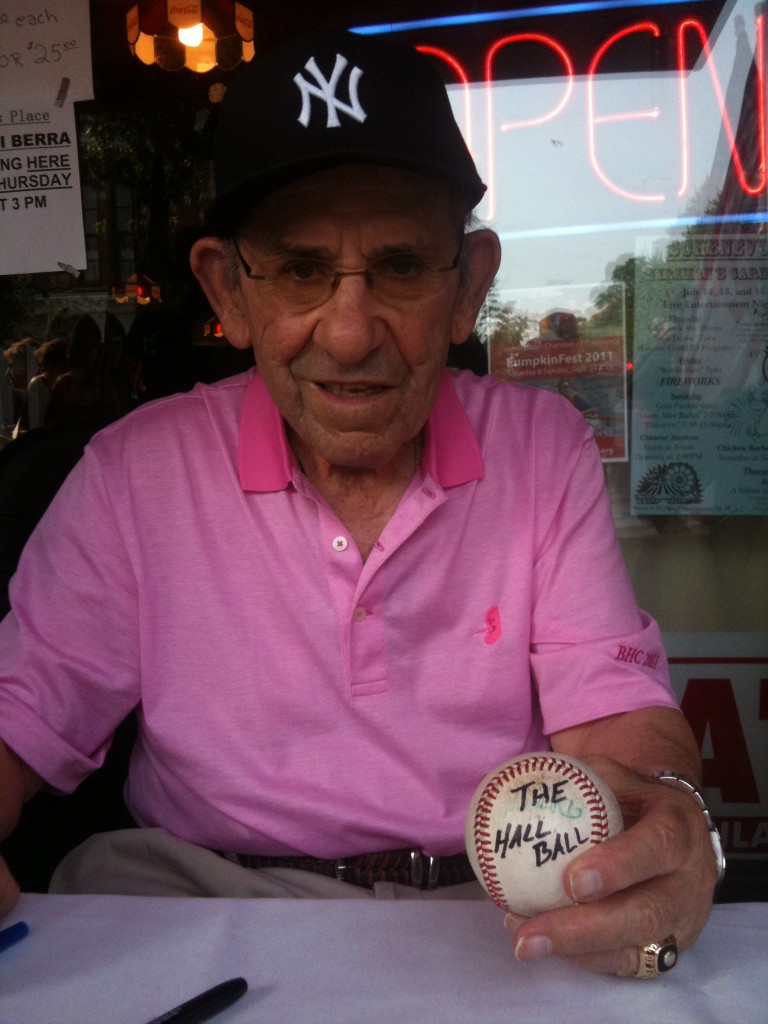 August 30, 2015-As some of you know, for the last year I have been on sabbatical from my job as the Production Manager of the Queens College Department of Drama, Theatre & Dance. Sabbatical is a wondrous and easily misunderstood thing. It could, somewhat easily, turn into a twelve-month vacation, and I think many perceive it that way. However, in my experience, most of my colleagues truly do use that time to expand themselves and make the art that they simply can't when faced with the responsibilities of a regular job. Instilled with a faintly Puritan work ethic at a young age, it would have been impossible for me to do anything but use this great gift wisely.
In that time I have directed seven productions over two summers for Buck's Rock Performing & Visual Arts Camp in New Milford, CT. I production managed the Drama League's annual Directorfest, and stage managed their gala and awards shows, which this year honored James Earl Jones and Chita Rivera. I even picked up a screw gun and did a little carpentry for Second Stage, on 43rd Street in Manhattan. I stayed active in my industry, expanded my contacts and got to make art with a large variety of people.
But, more importantly, I have also been on a yearlong adventure. My love for baseball dates back to my childhood and, except for a brief period in the mid-90s when we broke up, has been a constant. That is, a constant until I started The Hall Ball Project. I did not realize it at the time, but my clever little idea was going to change my life.
A funny thing happens when you start to learn about history. You want to learn more. Think of all recorded history as a puzzle. Each time you learn something new about our past, another piece of the puzzle falls into place. As the grander picture starts to take shape, our enthusiasm for filling in the remaining pieces grows. Thus it has been with my exploration into the members of the Baseball Hall of Fame.
Let's be honest, the greater majority of even the most die-hard fans would have a difficult time naming just a third of the 310 individuals who have been elected to the Hall. It's a lot of history, after all. Organized baseball is 150 years old and the story of the game and its genesis dates back much, much further. I, for one, likely could not have named a hundred members when Anna fished the ball out of that creek five years ago. This was true despite the fact that I considered myself a fairly knowledgeable fan of the game. After all, I had seen Ken Burns' documentary over a dozen times.
It was only when I began to look at all of the inductees that I realized how much I did not know. That was how it started. I would visit a grave and with a curiosity that has grown into a mission, I would learn the story of that person. And because the pieces of the baseball portion of the Great Puzzle are clustered, I began to see a lot of overlap with the 18,301 (as of 8/30/15) players who appeared in a major league game and were NOT in the Hall of Fame.
Roughly two years ago I joined the Society for American Baseball Research. SABR has, of course, become famous because of the work of Bill James, who has revolutionized how we look at baseball statistics. Sabrmetrics is a part of the baseball lexicon now and has even led to an entire conference dedicated to the numbers of baseball. But that is only a small piece of what SABR is.
Perhaps more importantly, SABR is the keeper of the tales. It is a gigantic network of baseball enthusiasts and historians who are each playing their part to keep the story of baseball alive. If I were to begin to list all that SABR does for the game this blog would lose its focus. If you want to know more, visit their website at sabr.org. Be sure to check out the biography project while you are there.
Today, I emphasize the importance of SABR primarily to point out what it has meant to me this last year. In that time I have attended three SABR conferences, in Cooperstown, Detroit and in my own back yard at John Jay College in Manhattan. Because of our shared passion, I have befriended some of the Lions of baseball history, including Peter Mancuso, John Zinn, Peter Bjarkman, Larry McCray and the great John Thorn. Their combined knowledge is simply staggering and to get to learn at their sides has been, and continues to be, an honor.
Most rewarding, however, has been my own work that I have been able to pursue in that time. Since August of last year I have entered every game that was missing from the Protoball database that was played by the New York Knickerbockers between their inception in 1845 and 1850, via transcribing the original game books held at the New York Public Library. In addition, I have entered hundreds of other clubs and games based in the New York City area, including some found in my own home borough, from research done at the Staten Island Historical Society. I even presented on the work that Protoball is doing at the conference at John Jay.
I have also had the honor to team up with some even more esoterically like-minded people, and have become a founding member of the SABR 19th Century Baseball Grave Marker Project. In the vein of the work being done for the Negro Leagues by the amazing Jeremy Krock, we are attempting to place markers at the sites of those players whose circumstances did not afford them the opportunity to have one at the time of their deaths. Our first target, Knickerbocker James Whyte Davis, has begun fund-raising. If you haven't had a chance to pitch in, you should take a look at this extremely worthy, tax-deductible cause.
It was the unmarked grave of Sol White that served as the first photo in The Hall Ball, and it is with some pride that I mention that, with myself serving as the Watson to Jim Overmyer's Holmes, the closest living relation to Sol has been discovered. Mr. Bill Edmondson of Pittsburgh was Sol's daughter's nephew. No direct blood relation remains but Mr. Edmondson clearly remembers his Aunt Marion speaking of her ballplaying father. Jim's work in putting the pieces together has been inspiring.
I have also learned that, despite what the public record states, Cristóbal Torriente is not buried in Cuba. Colon Cemetery in Havana has no record of his body and Calvary Cemetery in Queens has no record of his exhumation from the shared, cemetery-donated gravesite, a thing that would certainly have generated paperwork. Knowing of the corruption of the Batista regime at the time that Torriente's body was supposedly brought home for reburial and celebration, it is unlikely the greedy tyrant would have gone through the expense to make it happen.
And then, of course, there's Cuba. All of my travel left an important mark over this past year, really, but even the wonder that was the two weeks driving up the West Coast of the United States could not compare to the exotic, heartbreaking beauty of Cuba. To immerse myself in the baseball culture of this magical place, along with a busload of 24 other enthusiasts, each of them knowledgeable in their own fields, was an experience that will stay with me for all time.
Prior to attending Induction Weekend in 2014, I had photographed 190 of the members for the Project. By the end of this year's ceremony, the grand total stood at 264. Nine more states to visit. Fifteen more living members to meet. This Project, that has changed my life so drastically, is nearing its conclusion and I'm certain the end will be met with tears of joy and sorrow. The Ball has become very special to me and while I still intend on surrendering it upon its conclusion, it will not be easy an easy thing to do.
The unfinished ball has already provided me with something I have never been able to hold on to in the past, namely sustained inspiration while sitting at a keyboard. I have tried many times in my life to write a book and it has always inevitably ended in failure. I knew from nearly the start that The Hall Ball merited a book, and I made a number of sloppy stabs at it prior to last September. I was having trouble finding the right tone and each chapter read as if they were written for different books.
I had hoped that being able to focus on the task of writing, without the distractions of having to attend a daily job, would finally be the key to my success. I am ecstatic to learn that I was right. Given time, the story of The Hall Ball, and the history of the game in the hundreds of places I've visited on this quest, just flowed from my fingertips. The book is written, at least to the point of the completed travel, but is not complete. There is still more to write, but I know that when I do get to make the remaining trips, the stories will come. This book will be finished.
There's more to say about my experiences this past year, so much more. But the point has been made. What still must be said is that as I return to my regular job, I do it not with sadness for having to let go of all that I was able to do in the last twelve months. Instead, I do it with joy, because I know that my work in baseball, and my love of that work, are now a part of who I am. It will, of course, be difficult to find the time now that I have other responsibilities, but not impossible.
I found the time to write this, after all.
May 6, 2015-All of the photos from the recent trip have been attached to their players pages. Don't forget you can also see all the pictures side by side by visiting our flickr page. We also posted five new bios by Hall Ball contributor Tony Milito. Visit the pages of Max Carey, Roberto Clemente, Phil Niekro, Bill Terry and Ed Walsh to see what he's been up to.
May 4, 2015-The travels of The Hall Ball have now taken me to the four corners of the United States. I've just returned from a trip that began in Phoenix two weeks ago. From there I cut over to San Diego before traveling up the entirety of the West Coast, with a pit stop in Idaho along the way. Ostensibly the journey ended in Seattle, although there was also an eight-hour layover in Minneapolis that led to one more photo. Just reading the itinerary is exhausting.
Along the way I was able to reconnect with friends, old and new. I received gracious hospitality and saw a landscape that I knew existed, but had never experienced. From the deserts of Arizona to the snow capped mountains of Washington, it was an odyssey that represented such a fascinating cross-section of America. Conservative and Liberal; urban and rural; black, brown, white, red and yellow.
Each town visited along the way has a story, including Eagleville, California, which is not so much a town as it is a "census-designated place." Eagleville, population 51 souls, provided the single most stunning view of any cemetery I have ever visited anywhere on this earth. Most of the stories from these places are very different, even when the actual locations are not all that far apart. No one would ever confuse San Diego for Los Angeles, though they are only separated by two hours.
However, there was one piece of Americana that seemed to be there no matter where I was. That thing is, predictably, baseball. I know. I was on a baseball pilgrimage, so that is somewhat to be expected. But, there were times in which baseball was not on the itinerary and yet, there it was.
Yes, some of these insights were planned, but even those turned out to be instructive. My visit to the Alcor Life Extension Foundation in Scottsdale, location of the cryogenically preserved Ted Williams, taught me that there are only two other functioning organizations in the world that do what they do. One is in Michigan and the other is in Russia, although the existence of the final one is apparently fairly precarious. That means that the United States is the only place on the earth where one can have their body frozen with the intention of reanimation.
It is doubtful many of the students that walk around Point Loma Nazarene University know of the impact that Albert Goodwill Spalding had on the game. The sport's first magnate, and an avid Theosophist, Spalding built an estate in this community just outside of San Diego. Now a college, it serves the musicians, scientists and theologians of the future. The story of the Theosophist's and their influence on the history of baseball is covered thoroughly in John Thorn's Baseball in the Garden of Eden. Let's just say that without the obscure cult, it is unlikely that anyone who wasn't versed in the Civil War would know who Abner Doubleday was. Spalding's house, with its hand carved woodwork, serves as the office of the University President today.
But these are two grand, scheduled examples of how the history of baseball is woven into the story of America. There were also the unplanned moments. A leisurely stroll through Golden Gate Park revealed the statue below. Known alternately as "The Baseball Player," "Ball Player," or "The National Game," the sculpture was created by Californian Douglas Tilden and, I would later learn, is one of John Thorn's favorites. According to Thorn, the bronze was donated to the city by Southern Pacific Railroad mogul William E. Brown and placed in the park in 1891.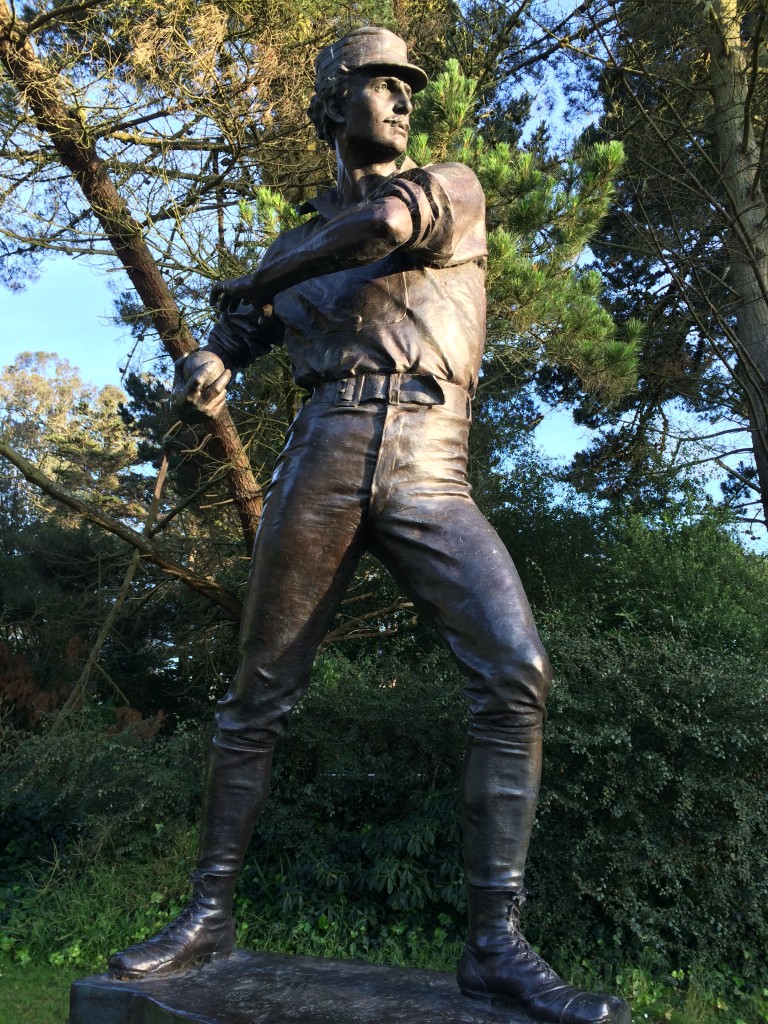 At Pier 39, also in San Francisco, a hot dog stand.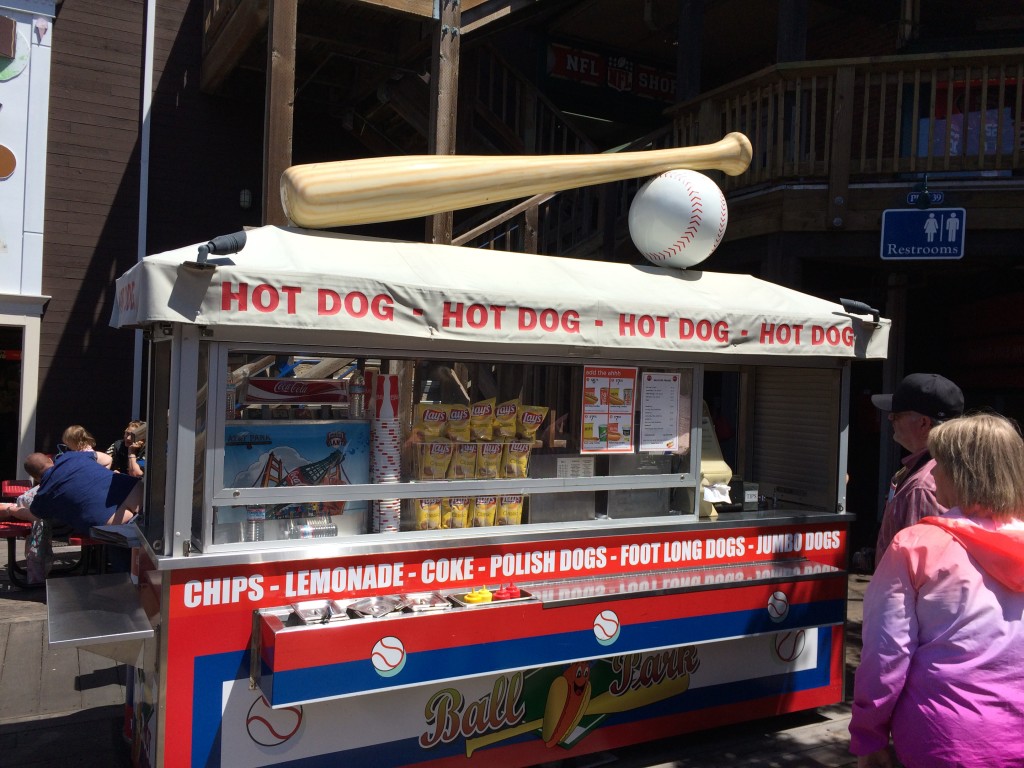 A baseball trophy at the restaurant in Alturas.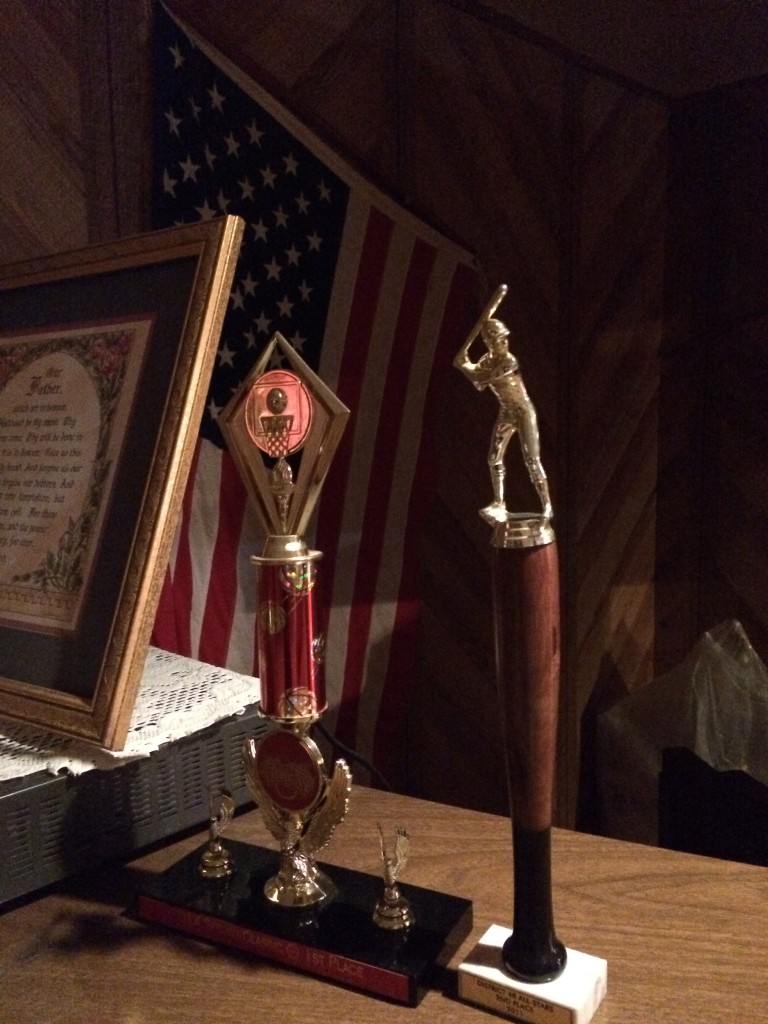 The diamond in Payette, Idaho, 450 miles from the nearest major league city. Paid for by the Killebrew family, it is designed to serve special needs children.
The fatheads in the Homestead Restaurant in Cle Elum, Washington.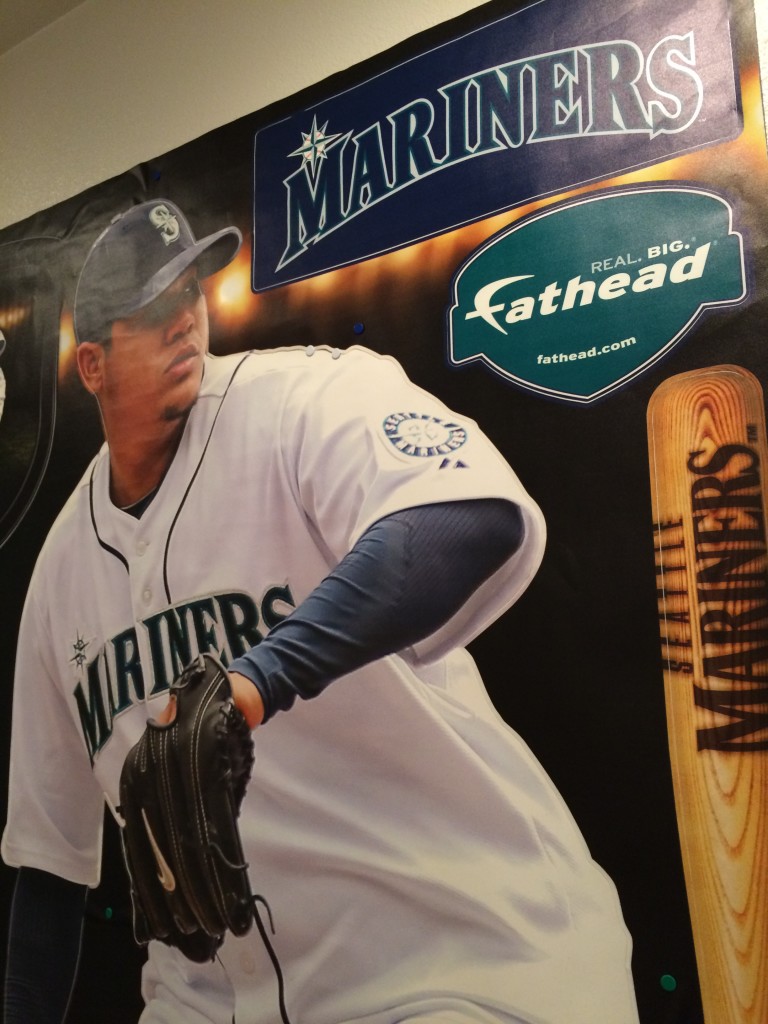 That doesn't even begin to touch on the little league games we passed. Or, the restaurants we shared with kids still wearing uniforms as their parents took them out for a victory (or consolation) dinner. Or, the crumbling hull of Candlestick Park. Or, the three different active major league parks where I witnessed a game. Or, the countless conversations with waitresses and cemetery workers, each of whom make some personal connection to the game when I tell them about the project. Because baseball is everywhere.
I know it sounds trite. Baseball has a way of doing that. It is too perfect a metaphor. But, that doesn't prevent the truth of the idea. The game has been a part of our history for so long that one needn't look far to see evidence of it, even if they don't realize it. Each new leg of the journey has taught me something more about the sport and its impact on the places it touches, whether that's California or Cuba.
At this point, I have traveled to twenty-three states, one US Territory and one foreign nation to photograph 258 of the 310 members of The Hall. There are nine states left, most with no more than two or three graves within them. Missouri is the last fat state, with thirteen Hall of Famers spending eternity there. I am certain as I travel through those final nine states, I will continue to learn about the people and places that make up our history. And I know that even when I'm not looking for it, baseball will be there.
April 6, 2015-I've finally added the pictures from the most recent trip. Stop by the pages of José Méndez, Cristóbal Torriente, Martín Dihigo, Roberto Clemente, Jimmie Foxx, Max Carey, Bill Klem, Ed Walsh, Billy Herman, Gary Carter, Dazzy Vance, Ray Dandridge, Nap Lajoie and Bill Terry if you'd like to take a peek. And don't forget, you can check out all of the photos at once by visiting the flickr page!
March 29, 2015-Remarkably, I do not have a very extensive baseball card collection. I have been lugging around the same cards from the late 1970s and 80s that I've had since I was a kid. As any collector knows, these cards are virtually worthless. They are the by-products of a memorabilia world gone mad and are slowly being turned into something for my youngest daughter to play with. I'd sell the whole lot in a heartbeat if I could find a fool who would buy them.
The one batch of cards that I have been collecting for years are the New York Mets issued as a part of the Topps core set. Because the boys from Flushing did not come into existence until 1962, they have always been represented by Topps, which issued its first annual set of baseball cards in 1952. Today, there are seemingly hundreds of different sets released by the various card companies, so in the interest of sanity I have decided to stick with good old Topps. And their base set at that. It certainly isn't going to result in the most valuable collection, but at least there will still be room in the apartment for the cats.
I was anticipating a chance to get some cards of the teams I would be seeing while I was in Cuba. Still naive about the differences between Cuban baseball and MLB, I believed that there would be such a thing. I mean, I knew the stadium amenities weren't going to be luxurious and the food at the park was lousy, but surely some enterprising soul had published some baseball cards. I was quickly corrected. There are no baseball cards. Yes, there was a set published in 1994 which includes pre-MLB cards for the Hernandez brothers, Livan and Orlando. The one before that was published in the 1950s.
I had never given much thought of what it would be like to be a child baseball fan without baseball cards. I had loved the cards long before I truly loved the game. Despite the fact that I have chosen to direct my adult discretionary spending to something other than packages of cardboard, that does not diminish the passion I had for them when I was a boy.
That same passion, this time on the faces of a gaggle of Cuban children, was on display whenever a member of our group pulled out a pack of American baseball cards at one of the five National Series contests we attended. They would swarm, a collective that would consume any gleaming, hard-cornered photo of a player in action they could get their hands on. Bonus points if it was Yasiel Puig or Aroldis Chapman. At one point I pulled out a Hall Ball business card in order to hand it to a Cuban sportswriter and a child's eager hands immediately reached out to me. Just the image of the Hall Ball was enough to ignite their imaginations.
All of this got me thinking about the Cuban stars of the past, and whether they had baseball cards. Certainly generations of National Series heroes have never had one. But, what about the 187 Cubans who played in the Major Leagues? Surely many of them must have cards. I considered starting a collection of all of the cards featuring Cuban-born players. I began by referencing the most comprehensive free digital source I've found to date, tradingcarddb.com.
I quickly realized that a complete collection of Cubans was going to necessitate far too much energy and money on my part pursuing José Canseco. There are over 2800 distinct cards published of the tainted slugger. I decided that maybe the best way to approach this new whim would be to just get the rookie cards. The set would become finite and achievable.
As it would turn out, many of the 187 have rookie cards, but certainly not all. Some would never have a card issued, at least none that a fairly thorough internet search could reveal. Others would have cards, but not ones that modern collectors consider "rookies." To officially be a rookie card, it needs to be a first appearance issued by a major manufacturer. Cards from a player's minor league days do not qualify. Similarly, neither do cards from foreign leagues, such as the pre-Revolution Cuban Winter League.
Such is the case of the Acosta brothers, José and Merito. The two appeared on Clark Griffith's Cuban-laden Washington Senators of the 1910s and 20s. However, neither made enough of a mark to appear on a card during the austere years of World War I and the time that followed. Cards were produced in smaller sets, thus players like Merito, who appeared in 180 games in the outfield over five seasons, and José, who pitched in 55 games over three years, often fell through the cracks.
However, while playing for the 1923/24 Marianao squad of the Cuban League, they both appeared in a set that was issued in Cuba by Billiken. Like their American counterpart, these cards could be found in packs of cigarettes. In addition to Cubans, this set also featured American Negro League legends like Oscar Charleston and Andy Cooper. However, because the cards were not printed by a major company and the players were not with a major league team, they are not officially rookie cards. They are, however, the earliest cards I can find for the two and will serve for my purposes.
So far, and research does continue, there appear to be roughly 150 cards in the set I have designed. I had four already, just by culling my own collection: a 1990 issue of Tony Fossas, a 1989 Orestes Destrade, a 1987 Rafael Palmeiro and, from a current pack bought in the interest of the project, a 2015 Jorge Soler. All of them happen to be Topps. There will be numerous other publishers in this set, including Bowman, Upper Deck and Fleer. There are even a couple of the mythical T-207s. Thankfully, neither Rafael Almeida nor Armando Marsans are likely to go for anything resembling the Wagner Holy Grail.
All of this brings us to a recent visit to a comic book store in New Paltz, NY. My ex-wife and I meet there sometimes when we exchange our daughter. Bella is a fan of comics and I like to encourage my kid to become a nerd, just like her old man. While not a large shop, the collection is extensive and a fan of the genre is certain to leave satisfied.
What it does not have, however, is a very impressive set of baseball cards for sale. The two collectibles will often appear together at small retail shops like this, though such stores usually lean more heavily in one direction. No one would ever think of this store as a baseball card shop. But, it does sell packs of the current sets and has about 50 single cards up for grabs. Of those singles, the inventory is split between medium value cards of current players, a sprinkling of stars from 1970s, 80s and 90s, and a few lesser known players from the 60s.
One of those latter cards was from the Topps 1965 set, number #201. Minnesota Twins rookie stars Cesar Tovar and Sandy Valdespino share the honors. Tovar, a native of Venezuela, would go on to have a fine twelve-year career with the Twins, Phillies, Rangers, A's and Yankees. He would finish in the top twenty-five in MVP voting every year from 1967-1971 and would lead the league in doubles and triples in 1970. The Trading Card database has identified 56 unique cards manufactured for Tovar.
Hilario "Sandy" Valdespino would last for seven seasons with the Twins, Braves, Astros, Pilots, Brewers and Royals. He would not share the same success as his card-mate, though he did get eleven at bats in the 1965 World Series, contributing a double and a run. Valdespino was born in San Jose de las Lajas in Mayabeque and would be the 106th Cuban to appear in the majors. He would make his debut on April 12, 1965. Card #201 is his official rookie card, one of only nineteen different identified cards of the outfielder ever produced.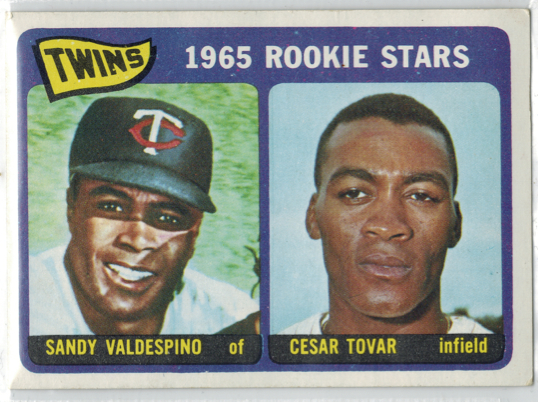 I cannot reasonably estimate how many baseball cards have been printed. Millions certainly. Likely, billions. Enough that determining the odds of this comic book store, which sells such an infinitesimal number of cards compared to how many are in existence, having one of the 146 I need is a task that might stump Bill James. To top it all off, the shop only wanted $1.50 for the card. That's at least a few bucks less than I could find it on ebay, and I didn't have to pay or wait for shipping.
There have been numerous times throughout this pilgrimage that coincidences or synchronicity have occurred. See my August 23, 2014 post about visiting Old Hoss Radbourn for another example. But, that doesn't mean that when it happens, the impact is lessened. The baseball gods are always watching and sometimes, if you are a good acolyte, they will reward you. That day, my reward came in the form of a fifty-year old piece of cardboard. Only 145 more to go.
March 17, 2015-The last three weeks have been the most memorable in the entire four-and-a-half year journey of The Hall Ball. Ten more photos were added from the state of Florida, finally finishing the Sunshine State. After my August 2010 visit to Sol White (number 1 in the quest) the next four photos came from the Bradenton area. Serendipity from a previously scheduled family vacation. Completing the state all these years later felt like a huge step forward.
Puerto Rico, too, was another long-sought milestone. I have always admired Clemente. When I was a kid it was because he wore my number as well as died a hero forty days after I was born. Now, it is because I better understand the fire within that drove him to excellence, both as a player and as a man. I am pleased with the photo of the ball on the Isla Verde Beach in San Juan, where the wreckage of his plane washed ashore in the beginning days of 1973. On the way out of town I noticed prints in the airport gift shop and made the poor clerk pose with the Ball.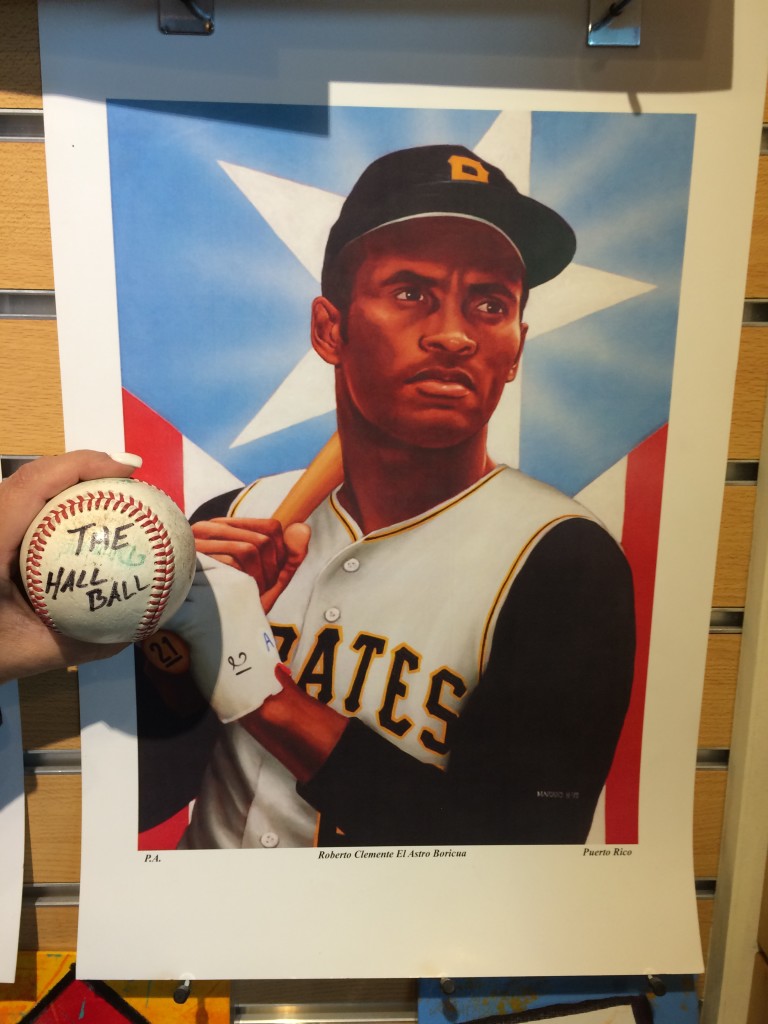 However, despite the success of Florida and Puerto Rico, there has been little in the quest that can compare with adventures in Cuba. In a little more than a week, I saw five games played by teams in the waning days of a pennant race. While the leisurely pace of Spring Training defines Major League Baseball at the moment, just 90 miles away another league is coming to its exciting conclusion.
Over those games I witnessed a triple play, as well as a two-homer game by established hero Alfredo Despainge. I spent 45-minutes sitting in the dark at Calixto García Íñiguez Stadium while technicians tried to solve a blackout. I met Victor Mesa, one of the most famous ballplayers in Cuba and manager of the squad from Matanzas. A strange mixture of brilliant and insane, his manipulation of a bullpen rivals Tony LaRussa's for sheer volume of activity. We mingled on the field with the players and were broadcast on Cuban TV when we sang "Take Me Out to the Ballgame," during the seventh-inning stretch. I also picked a favorite team, based solely on the winner of the first National Series game I attended. Victor's Matanzas squad ended up going 3-0 in the games I witnessed. Go Cocodrilos!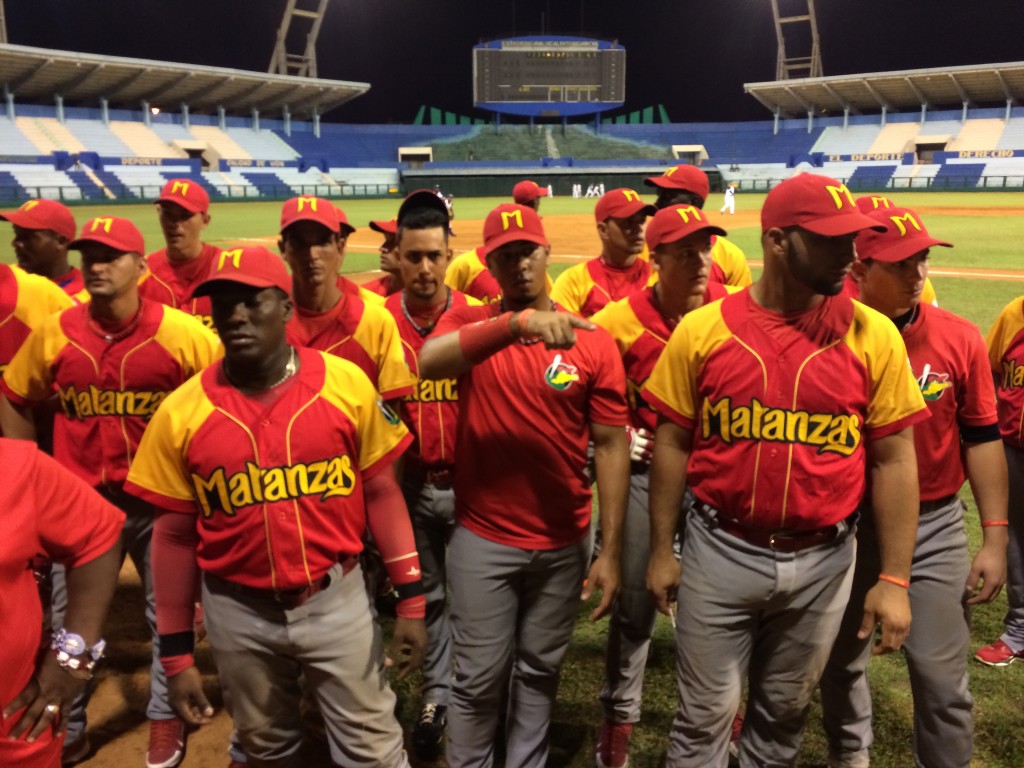 I imagine that a trip to the ball park in Cuba has the feel of watching a Major League game circa 1955, when there was still a chance that you could ride the subway home with your favorite center fielder. Just prior to the start of one game, a player in full uniform and cleats stepped outside to buy a fruity, slushee-type drink from the cart by the gate. Throughout our visit we were accompanied by various notables. One of these was Enrique Díaz, the National Series leader in hits and stolen bases.  The familiarity between the players, current and retired, and the fans helps define baseball for the Cuban people.
The time warp feeling is further enhanced by the country itself. Between the 1940s and 50s Chevys that still lumber through the streets of Havana, and the crumbling cathedrals that are older than the United States, it is easy to sometimes forget when you are. Sadly, this antiquity is often true of the toilet facilities as well, but such is the price. Walking through Havana at night, near the famous sea wall known as the Malecón, is akin to walking through a salty, warmly lit dream.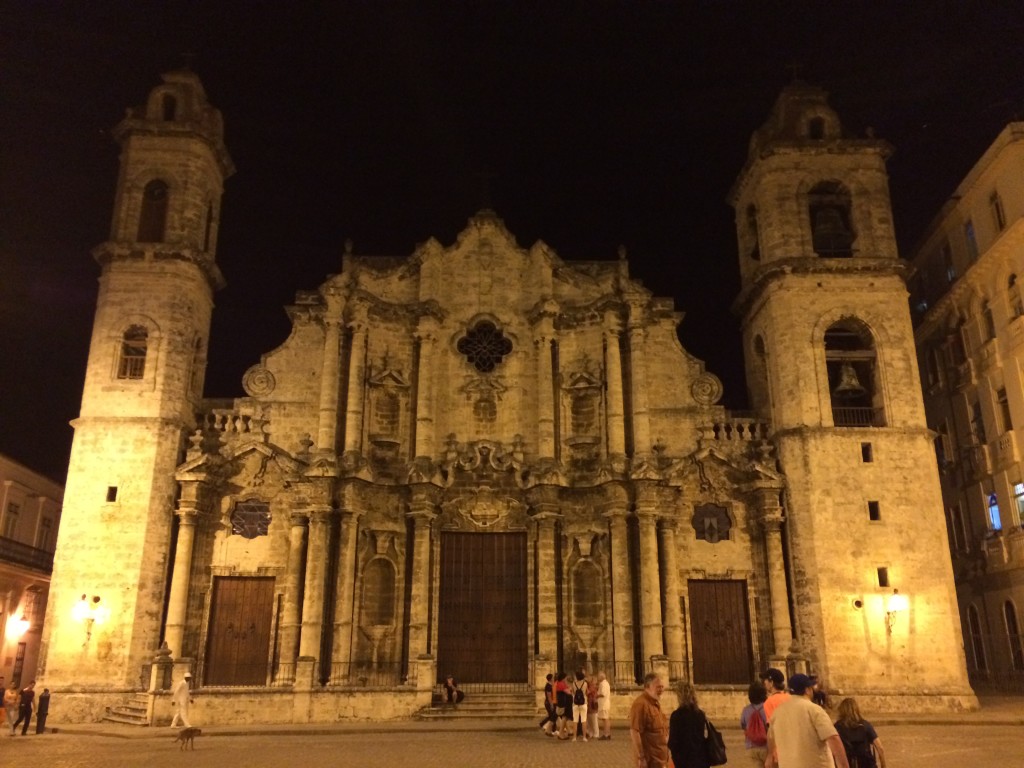 It goes without saying that the necessary photographs were taken. On the very first full day in country we stopped by the Colon Cemetery and visited the two Monuments to Baseballists. There, I photographed Méndez and Torriente, aided by fellow Cubaballista Tom Hawthorn as hand model. Progress has been made in regards to the true final resting place of Cristobal Torriente, but I will save those details until I have a chance to do a little more follow-up.
The journey to photograph Dihigo was an entirely different adventure. As previously mentioned, the province of Cienfuegos was not a part of the established itinerary. I broke off from the group to travel 3 hours away to the small town of Cruces. Along with "Pepito" Krieger and Larry Phillips, I was given the very special privilege of spending time with The Immortal's son, Martín Jr. He is a warm, charismatic man who had some baseball skills of his own. He spent five-years in the Reds minor-league organization, alongside Pete Rose and fellow Cuban Tony Perez. Discouraged by the racism in America, he came back home to play basketball.
I was able to interview Mr. Dihigo, and we talked about his father as well as his own career. Often the tales of baseball greats do not contain a chapter about what brilliant parents they were. It was marvelous to hear that Martín Sr., whom most of the veteran Cuban ballplayers we spoke to named the greatest player ever from their country, was also a good father. Excerpts from the interview will be appearing in the book.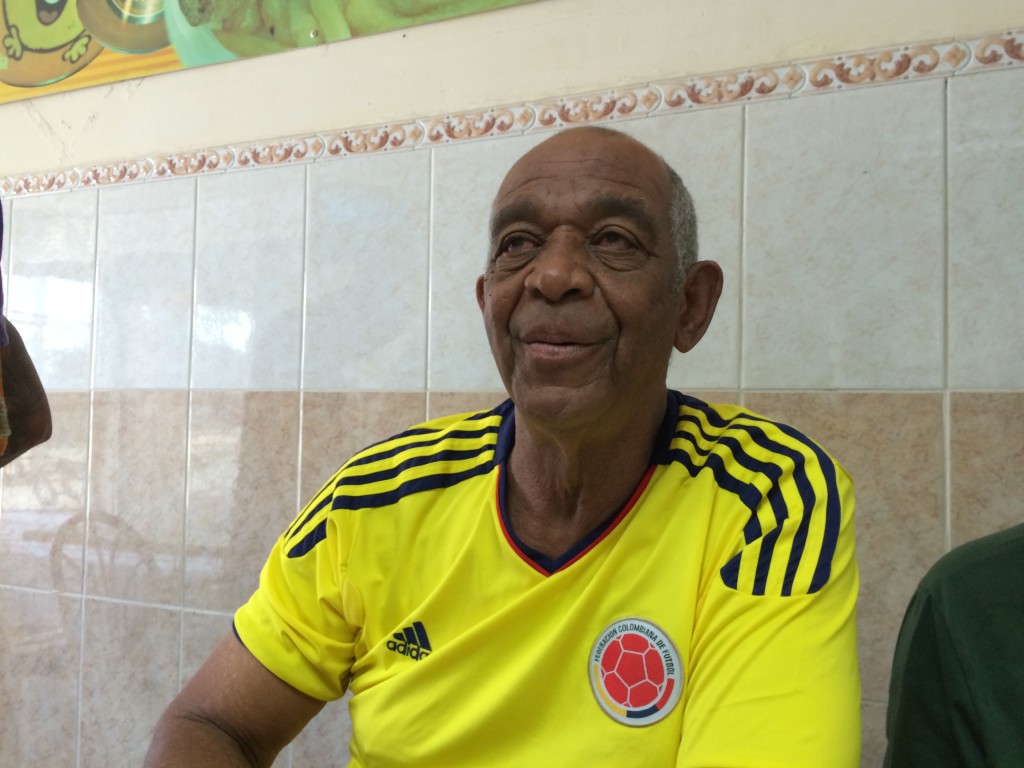 I was also able to accomplish one of my rituals in a profound way. After every photograph taken at a grave, I toss the ball in the air twice and thank the player for their contribution to the game. I fancifully think of it as playing catch. This time I was able to literally play catch at the feet of this giant of the game, his son as my partner. I was glad to have the long drive after we were done to sort my thoughts. That the project had brought me this far, to a moment in time that I could not have imagined when I began, created a feeling I will not soon forget.
The rest of the Cubaballistas were wonderful. At one point, as we were boarding a plane in Holguin to fly to Havana, a security guard insisted that The Hall Ball go in to checked luggage. Terrified that all that work was going to be lost to a misplaced bag, it was the roughest part of the whole trip for me. The way the group rallied behind me, giving hugs and cheers when I pulled it out of my safely-delivered suitcase, endeared them to me forever.
There is so much more to say. I haven't even touched on the youth baseball academies, or the small diamond by the front gate of Hemingway's estate, or the country's emphasis on combining baseball and art. There was the swarm of little boys whenever one of the group opened a pack of baseball cards. There were the talented players from Cuba's premiere baseball league literally willing to sell us the shirts off their backs in order to supplement their meager salaries. There was the sensation of throwing a ball, my bare feet sinking into the warm, forgiving sand while an ocean the color of sapphire sparkled next to me.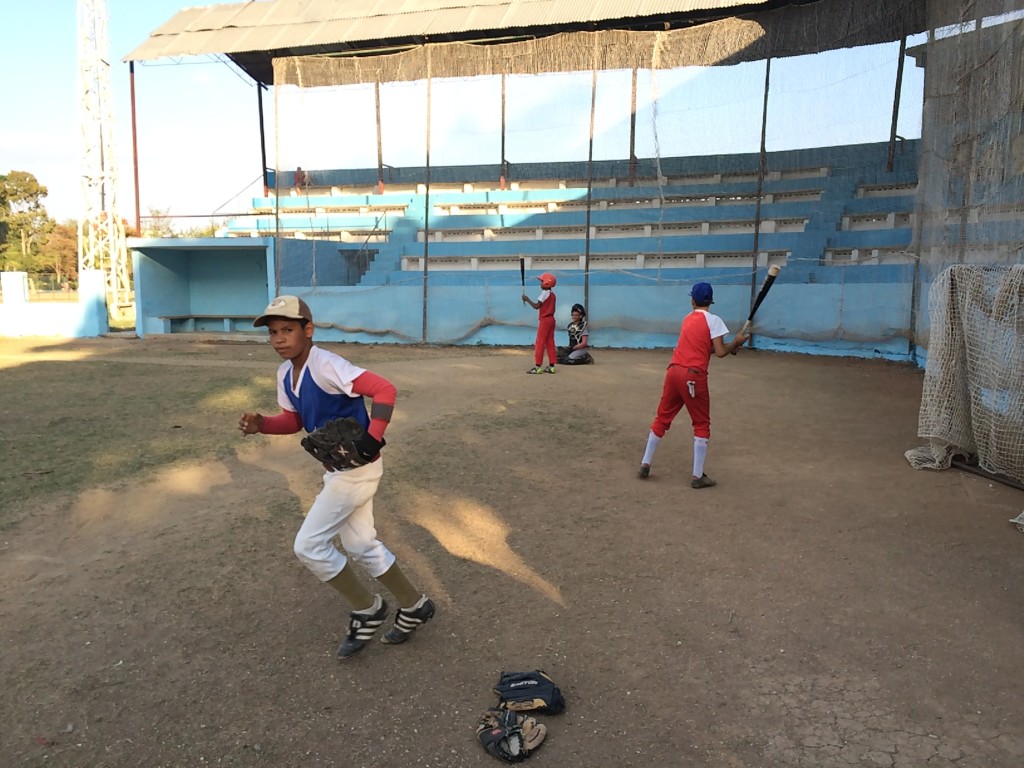 The total number of Hall of Famers photographed for the project now stands at 227 out of 310. Now that this long anticipated journey to Cuba is finished, it really does feel as though the end is in sight. There are only three or four road trips left to photograph all of the remaining graves. Only 18 of the nearly 70 living Hall of Famers have yet to participate. I have crossed over the line from believing the project will be completed, to knowing. Time to start planning the next adventure.
February 16, 2015-(This is the fourth in a four-part series on the history of Cuba, its relationship with baseball, and the stories of the three Hall of Famers who are buried there. For part three scroll down to the post from Feb. 4)
With the adoption of the Cuban constitution in 1902 came the election of their first president, Tomás Estrada Palma. Unfortunately, corruption came almost immediately to the fledgling democracy when Palma ousted all the members of the opposition Liberal Party from their government positions by the time the subsequent 1906 election rolled around. The election itself was one-sided and disputed, so United States mediator William Howard Taft (who would be elected US President three years later), was brought in to reconcile the Palma faction with the Liberal Party.
When Taft was unable to make both sides happy, the Cuban government requested that the United States military return to the island to maintain order. It was preferable for America to rule than for either side to allow their enemies to gain the upper hand. For decades, asking for US intervention would become standard operating procedure in Cuba. By the time the Cuban people began to realize the inherent dangers of this, America's business interests (including the Mafia) were so inexorably intertwined that it would take the revolution of Fidel Castro's barbudos to untie the knot.
Besides marking the first of many disputed Cuban elections, 1906 also witnessed the birth of Martín Magdaleno Dihigo Llanos. Born in Matanzas, Dihigo would have been introduced to baseball at an early age. Dating all the way back to the beginning of Cuban League play in 1878, Matanzas was a presence in the baseball circuit. Although never of the caliber of Habana and Almendares, Matanzas was the third of three charter clubs that first season. Since then, numerous squads have called the province home, including the current National Series squad, the Cocodrilos (Crocodiles).
Dihigo would premiere as a seventeen-year old playing for Habana during the 1922/23 season, alongside teammates Cristóbal Torriente, Pop Lloyd and Major Leaguer Adolofo Luque. His first season was unimpressive, as he bat a pitiful .167 in 30 at bats. However, his talent, while still blossoming, was apparent. Thus it was with the completion of the Cuban League season that the youngster found himself playing for Alex Pompez's Cuban Stars East in the Eastern Colored League in 1923.
With Pompez's squad Dihigo continued to struggle at the plate, but he shined in the field and also started to further develop his skills as a pitcher. Again, his pitching stats from that first ECL season were nothing to crow about, finishing with a 2-2 record and a 4.05 ERA, but his versatility was becoming apparent to all. Over the course of his long career Dihigo would star not only in Cuba and the US, but he would leave his mark in the Mexican Leagues as well as Venezuela and the Dominican Republic. He is, in fact, the only person elected to the baseball Hall of Fame in five different countries.
Within just a couple of seasons of his less-than-stellar debut, Dihigo had learned to hit the curveball that had eluded him as a teenager and set about establishing himself as the most dominant and influential player in Cuban baseball history. Historian John Holway has compiled a lifetime batting average for Dihigo of .304 with 134 career home runs, which certainly outshines the numbers of many of his contemporaries. Plus, his lifetime pitching record of 288-142 gives him a .670 winning percentage, ahead of such names as Christy Mathewson, Roger Clemens and Sandy Koufax. But, as is typical for the Negro Leagues, statistics do not tell the entire story.
His legend also comes from the individual tales of his performances. He was known throughout the Cuban and Mexican Leagues for his speed, strength and ingenuity. Dihigo was able to beat you not only with his physical talents, but with his keen intellect. One tale, conveyed in Peter Bjarkman's "A History of Cuban Baseball: 1864-2006," tells of Dihigo scoring by confusing a pitcher from third base. Standing at the hot corner, he kept yelling at the confounded twirler, "You balked! You balked!" over and over. Uncertain what to make of this odd outburst, the pitcher simply stood there as Dihigo worked his way down the line and across the plate for the run.
When his long playing career came to an end in 1947, twenty-five years after he played his first game, he had set multiple standards. He would win double digits as a pitcher in the Mexican League six times, in the Cuban League four times and in the Venezuelan League once. With the Cuban Stars he would lead the league in home runs twice, a feat he would repeat in 1935 with the New York Cubans and in 1936/37 for the CL Marianao squad. In 1935/36 he would have a season for the ages playing for the CL Santa Clara team, dominating the circuit in runs, triples, RBIs and batting average.
When he finally did retire, Dihigo kept his hand in the game, managing, umpiring and broadcasting for years after. Opposed to the Batista regime, he left Cuba in 1952 and returned only after Castro, whom he openly supported, took power in 1959. Towards the end of his life, suffering from illness, he lived with his son, Martín Jr., in the province of Cienfuegos. He died there on May 20, 1971. He is buried in the Cementerio Municipal Cruces, in the town of Cruces.
Because the tour that I'll be going on is focused around the ongoing Cuban National Series, we are not scheduled to visit Cruces. The squad from Cienfuegos finished a miserable 16-29 this season, securing them last place and excluding them from the current Winners Stage that we'll be witnessing. As a result, I will be breaking away from the group and venturing out to Cruces on my own.
Tour director Kit Krieger has arranged for me to have none other than Martín Dihigo, Jr. serve as my guide while I am there. Mr. Dihigo had a brief baseball career of his own, playing alongside Pete Rose and Tony Perez in the Cincinnati Reds minor league organization. He still lives in Cienfuegos and is more than willing to speak to anyone who wants to hear about his legendary father. Kit informs me that he even looks eerily like his namesake.
In the nine days I'll be in Cuba we are scheduled to see six games featuring Cuba's premiere teams. We will visit some of the most important landmarks in the history of Cuba, even beyond the world of baseball. But, it is this once in a lifetime opportunity to sit at the feet of such a direct connection to history that I am looking forward to the most. The tales of Dihigo's greatness are legion, but I hope to pry one or two previously unheard nuggets from the son. If I succeed, you folks will be the first to know.
I am now less than a week away from boarding the plane that will take me on this adventure. Although progress does seem to be happening in regards to the normalization of Cuban/American ties (at least on the surface), my US phone will still be useless to me while I am there. Our hotel does offer internet but only at the rate of $11/hr, meaning that finances will be limiting my access. I mention all of this to let you know that while I am there, you loyal followers of The Hall Ball likely won't hear from me much. But, rest assured, I will be recording every minute of the trip and I anxiously look forward to sharing it with you upon my return.
While I am gone, Spring Training will have gotten started here in the States. Life will begin anew as the crisp snap of leather on leather will be heard on the diamonds of Arizona and Florida. When I leave Cuba on March 3rd, I will immediately be visiting Puerto Rico to photograph the beach where the wreckage of Roberto Clemente's plane washed up. Then, I'll be heading off to Florida to shoot the ten Hall of Fame graves remaining there, completing The Sunshine State four and half years after I visited the Sarasota grave of Heine Manush. I'll also be catching a game between the Washington Nationals and the Detroit Tigers at the Nationals spring home in Viera, near Cape Canaveral.
Yes, it's almost baseball season here at home. Stay warm between now and then friends. Hope, in the form of a familiar white ball, is soon on the way.
February 4, 2015–(This is the third in a four-part series on the history of Cuba, its relationship with baseball, and the stories of the three Hall of Famers who are buried there. For part two scroll down to the post from Jan. 28)
Four hundred years of Spanish colonial rule in Cuba came to a head at the end of the 19th century. While the thirst for independence was quieted by the concessions of "autonomy" brought about by the Ten Years' War, it was not extinguished. Revolutionaries from that failed attempt had scattered to the four corners of the earth, or gone underground, but they survived and continued their quest to free their homeland. The convoluted intertwining of American and Cuban history would become even more linked and it could be said that, like baseball, this was a direct result of a movement that was begun in New York City.
José Julián Martí Pérez was born in Havana in 1853, and was a mere child of fifteen when the Ten Years' War began. This did not prevent the artistically-talented and politically-minded youth from being a vocal supporter of the rebellion. He was arrested at sixteen and exiled to Spain at eighteen. He would complete his studies in Spain before traveling extensively, all the while writing about his beloved homeland.
Martí's travels would bring him to New York City, where he lived for fifteen years. It was also where, in April 1892, he would be tagged as the delegate of the Cuban Revolutionary Party, a group of fellow exiles who had been plotting to return to Cuba and oust the Spanish. He would, for the next three years, be a moral and tactical inspiration in the planning for Cuba's final war of independence. In April of 1895 Martí returned to the place of his birth, armed and prepared to die to oust the Spanish. A little more than a month later, he made that ultimate sacrifice.
His early exit from the drama likely only emboldened his followers as the struggle continued through 1898. It was that year that the United States, whose loyalties were somewhat murky at the beginning of the conflict, decided to intervene. Spain was already in the process of establishing an autonomous government in Cuba when in February the USS Maine, which had been anchored in the Harbor of Havana, mysteriously exploded. The US government used this as justification to declare war and within months, unable to face another sustained conflict, this time against the naval superiority of the US, Spain surrendered.
Although the US gained much of Spain's territory in the region as a result of the ensuing Treaty of Paris, including Puerto Rico and Guam, they maintained governmental jurisdiction over Cuba only until 1902. That was when the Cuban people formed their own government for the first time since the Taínos and the arrival of Columbus. The US would maintain their hold on the installations at Guantánamo Bay, the now famous military base that remains a sticking point today, as Cuba and the US attempt to end decades of international isolation.
A little more than a year after Martí became the head of the CRP, Cristóbal Torriente was born in the small city of Cienfuegos, about 150 miles from Havana. For the first few years of his youth, there was no baseball in Cuba. The war canceled the 1894-1898 seasons of the professional Cuban League, with the grim realities of conflict making play impossible. Despite this, he was barely twenty years old when he made his professional debut with Habana for the 1912/13 season.
One of the Cuban Leagues greatest challenges throughout its existence was overcoming the fact that although there were (usually) four teams in the league, success and the subsequent fandom consistently only came to two of them. Between 1901 and 1960, 43 of the 59 championships were won either by Habana or Almendares. Torriente would spend a total of six seasons playing for Habana and another five for Almendares and would create a legacy as one of the islands greatest sluggers by adding to their respective dynasties.
He also spent thirteen seasons playing in the American Negro Leagues, logging time with the Cuban Stars of Havana, the Kansas City All Nations (where he played alongside José Méndez), the Cuban Stars West and the Chicago American Giants. It is with this final club, a charter franchise in Rube Foster's Negro National League, that he played the greater portion of his Negro League career. In six seasons with Chicago, he batted a blistering .356 with a .559 slugging percentage.
Torriente would go back and forth between the Cuban League and the Negro Leagues throughout his career. So it was in 1920 that, after leading the Chicago American Giants to the first pennant in NNL history, he was back in Cuba for an exhibition series against John McGraw's New York Giants and Babe Ruth, who himself was fresh off his record setting first year with the New York Yankees. On November 4th, playing for Almendares, Torriente cemented his legacy in Cuban history by slugging three home runs that day. The Babe, who was already one of the most popular athletes in the world, went a meek 0 for 3 with a walk.
It is important to point out that even this legendary game has suffered from the glorification that comes with a good baseball yarn. As historian Peter C. Bjarkman points out, "the Giants pitcher serving up the Torriente blasts was an out-of-position first baseman, the New York players were all suffering from head-splitting hangovers, and none of the ballplayers on either side were trying especially hard that afternoon. But the myth surrounding Torriente's performance apparently fueled a popular need in Cuba at the time." Bjarkman concludes, as any good baseball historian will tell you, that "a good myth is rarely if ever diminished by the troublesome facts which might surround it."
Such is the case with Torriente, nicknamed "The Cuban Strongman," whose powerful on field feats remain the stuff of legend, but for whom the details of his death seem to be clouded by misinformation. History records that Torriente died in New York City in 1938, the victim of an excessive lifestyle that is an all-too-frequent coda of many a ballplayer. Upon his death, teammates and friends paid to have his body shipped back to Cuba and he was buried in Cementerio de Cristóbal Colón. His name appears on the 1951 monument, not far Mendez's.
In preparing for The Hall Ball's trip to Cuba, I was discussing Torriente with tour director Kit Krieger and he mentioned that Torriente is actually not buried in the monument. In fact, no one is really sure where he is buried. He encouraged me to reach out to Sigfredo Barros, baseball beat writer for Granma, the official newspaper for the Cuban Communist Party. "Siggy" confirmed that a check of the cemetery records showed no information about "The Cuban Babe Ruth."
I contacted the New York City department of records and obtained a copy of Torriente's death certificate, which you can see for yourself below. Among other interesting bits of information, I learned that he died at Riverside Hospital in the Bronx. Located on tiny North Brother Island, completely removed from the mainland of New York City, Riverside was a sanitarium for infectious disease. Its most famous resident, who was there concurrently with Torriente and who died just seven months after he did, was Typhoid Mary. The hospital was closed down in the 1960s, and the dilapidated buildings still remain today, inaccessible to most New Yorkers as the City has cut off access to the island completely.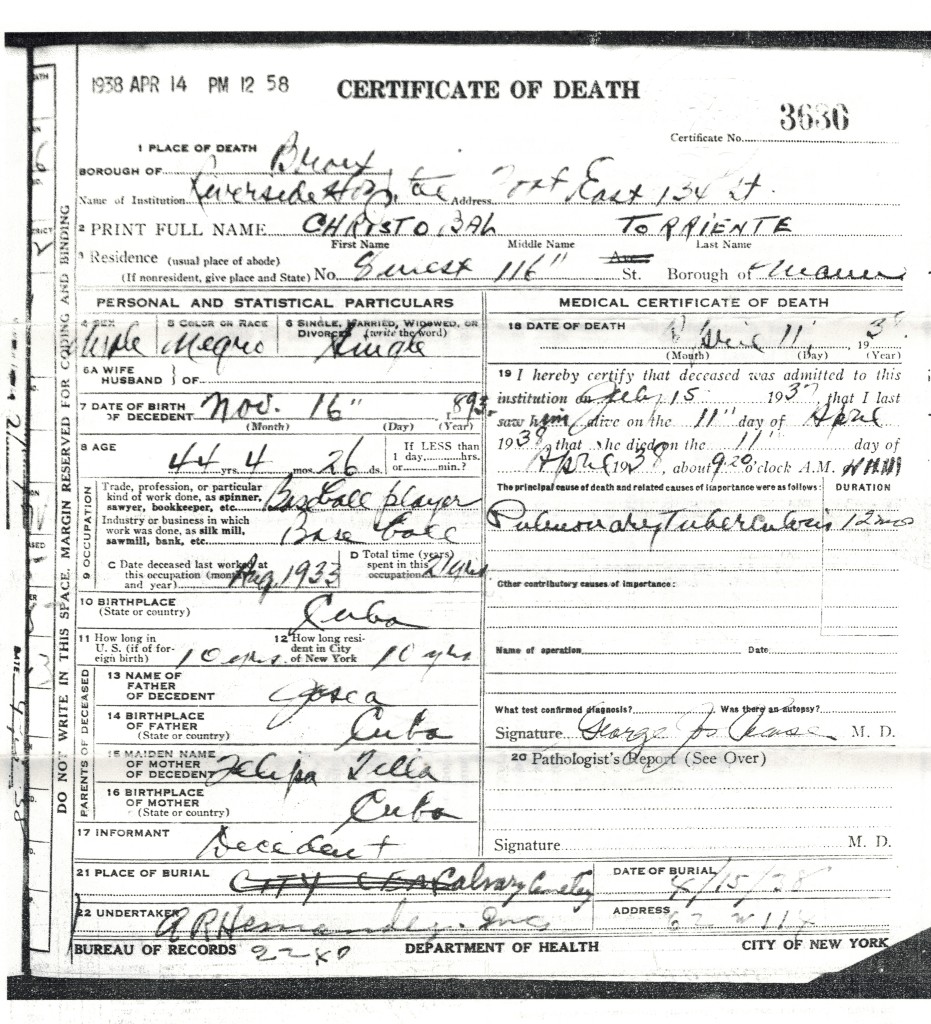 Torriente's death certificate goes on to explain that he had originally checked into the hospital in July 1937, suffering from pulmonary tuberculosis, and that he died on April 11. The mystery deepens when one looks at the bottom of the page. Next to "Place of Burial," it is clear that his original destination was a city cemetery, likely to be buried in a communal grave earmarked for the city's poorest. But, that has been crossed out and replaced with "Calvary Cemetery."
There is only one Calvary Cemetery in the five boroughs, and it is located in Queens, just on the other side of the Queensborough Bridge. Hall of Famers Wee Willie Keeler and Mickey Welch are buried there, and it was also the shooting location for the funeral of Don Corleone in The Godfather. It is also one of the more expensive cemeteries in which to be buried in the metropolitan area, and an unlikely resting place for a ward of the city. Calls to their offices confirm that they have no record of Torriente.
Which leaves us with a mystery, just weeks before I depart for Cuba. I will, of course, visit the Monument to Baseballists and make sure that The Hall Ball is photographed near Torriente's name. If I am unable to discover the facts surrounding his burial, that will have to suffice for the purposes of the project. But, I have reached out to researcher extraordinaire Jim Overmyer, who recently discovered the closest living relation to the great Sol White, and enlisted his aide. Sadly, this is not the first time since The Hall Ball began that the burial location of a Negro League great has been in question. However, the dedicated work of people like Jeremy Krock, founder of the Negro Leagues Baseball Grave Marker Project, has been able to bring those other mysteries to light over the ensuing four and a half years. I'm hoping that magic can be found again, and that it is discovered before I bid the "Pearl of the Antilles" goodbye.
January 28, 2015-(This is the second in a four-part series on the history of Cuba, its relationship with baseball, and the stories of the three Hall of Famers who are buried there. For part one scroll down to the post from Jan. 16)
Located just a few miles to the west of the Port of Havana, lies the Cementerio de Cristóbal Colón. Americans better know this cemetery's namesake by the Anglicized version of Christopher Columbus, though, to be fair, his Genoan birth name was in fact Cristoforo Columbo. There is no better way to start an exploration of Cuba then with the world's most famous invader who is still, to this day, credited with "discovering" the new world, a claim that has only slightly more credence than Doubleday's influence on the creation of baseball.
Prior to 1492, three distinct indigenous peoples existed on the Cuban island: the Guanahatabeyes, the Ciboneyes and the Taínos. When Columbus arrived in October of that seminal year, it signaled the doom of these cultures, just as it would cause the near extinction of their Indian neighbors to the North. As with America, small pockets of these native people still exist in Cuba today, but their way of life was annihilated by Columbus's benefactors, the Spanish.
Over the next four-hundred years Cuba would be subject to Spanish rule. Besides serving as an agricultural resource, providing fertile land for coffee, sugar and molasses, Cuba was also a convenient hub for the Spanish slave trade. Cuban law, however, did allow opportunity for slaves to buy their freedom. By the start of the 19th century, frequent small slave rebellions, ironically indebted to the thirst for democracy created by the American Revolution, coupled with those who had purchased their emancipation, led to a sizable free black population. Palenques, Spanish for "walled city," began to sprout up around Cuba; protected communities outside of the reach of the law, made up entirely of free blacks or, gente libre de color.
Large-scale rebellion came to Cuba in 1868, just three years after the end of the Unites States Civil War. The goal of the conflict, which would come to be known as The Ten Years' War, was to liberate Cuba from Spanish rule. They were not successful, although Spain did promise greater autonomy to the country in the 1878 pact that brought about an end to the fighting. That agreement, known as the Pact of Zanjón, also guaranteed the freedom of any black who fought on either side of the war. It was an important step and just eight years later, on October 6, 1886 slavery would be completely abolished throughout the nation.
Twenty-two months prior to that historic day (sources vary as to the exact date), José de la Caridad Méndez was born in Cárdenas, in the Matanzas Province, roughy one-hundred miles east of Havana. Méndez was ebony-skinned and small for a ballplayer, only 5' 8" and roughly 160 lbs. (again sources vary as to his exact size). But, this did not prevent him from becoming one of history's most dominating pitchers and the first superstar Cuban export to North American baseball.
The Cuban League was founded the same year the Ten Years' War ended, in 1878, and was strengthened with Cuba's eventual independence in 1898. In fact, it would operate continuously until 1961, when Fidel Castro dissolved the league along with the rest of professional sport throughout the country. When Méndez began his professional career during the 1907/08 season, he joined the Almendares, one of the Cuban League's charter franchises. The club was in the middle of quite a successful run, having won the championships of the 1904/05 and 1906/07 seasons.
Méndez's presence made a good team better. Almendares had an .826 winning percentage his rookie year and the twenty-three year old set the league on fire. He posted an 8-0 mark, pitching two shutouts in seven games started. He was a little wild, walking thirty-two in seventy-five innings, but he still managed a minuscule 0.48 ERA. Along with offensive powerhouse Emilio Palomino, he led the club to another championship, finishing five and a half games ahead of Habana.
In 1908, during the Cuban League off-season, he joined the Cuban Stars of Havana, members of the Independent National Association of Colored Professional Clubs of the United States and Cuba, a long-winded name that would mercifully shorten over the ensuing years. Members of the pre-Rube Foster disconnected Negro Leagues, the small league would feature the Brooklyn Royal Giants, who would play an exciting exhibition series against Almandares in Cuba later that year. It also included the Sol White-led Philadelphia Giants and the misnamed Cuban Giants. Unlike the Stars of Havana, who actually were Cuban, the Giants were made up of Americans who capitalized on the mystique surrounding Cuban baseball.
The Stars never played home games, appearing mostly in ballparks in the Northeast, and fared poorly, finishing 8-12 that season. However, Méndez's return to Almendares brought immediate success. Picking up where he left off his freshman year, he won fourteen league games in 1908/09, and an additional three in exhibition play against the Brooklyn Royal Giants and the Major League Cincinnati Reds, who visited Cuba in November of that year. Méndez dominated the white big leaguers, pitching two shutouts and declining to give up a run in his twenty-five innings of work. His status in Cuba, and abroad, had become legendary.
He would play with Almendares for seven seasons, his last in 1915/16 and would help them win four more championships along the way. He would also play with the Cuban Stars until 1912, winning twenty games with them over his career, including a stellar 9-0 mark in 1911.  Méndez was likely the most celebrated athlete in Cuba when, in 1916, he joined the Kansas City All Nations of the Western Independent Clubs of the American Negro Leagues.
By then, his arm had given out and he was no longer able to command his lightning fastball. Enticed by All Nations owner and fellow Hall of Famer J.L. Wilkinson, he converted to shortstop. Despite mixed success at the new position, he would spend the next five years playing exclusively in the United States. Appearing with the Chicago American Giants in 1918 and the Detroit Stars in 1919, he found a new home in 1920 with the Kansas City Monarchs, again working for Wilkinson.
A charter club of Foster's Negro National League that season, Méndez would serve as the first player/manager of one of the most famous franchises in Negro League history. His playing time would lessen as he reached his mid-thirties, but he would lead the Monarchs to championships in 1923 and 1924. He even pitched, as a thirty-nine year old, in the first Negro League World Series in '24, defeating the Hilldale Daisies twice and allowing only four runs over nineteen innings of work. It would be his final hurrah with the Monarchs.
He would return to Cuba briefly, for the 1920/21 season, playing one more time for Almendares, and would return for good after he left the Monarchs. He would play for Santa Clara in 1923-25, Habana in 1925/26 and Alacranes of the newly formed Triangular League for 1926/27. The league lasted for only a season, but was well funded and could afford to hire legendary names like Méndez. The Alacranes would win the special season that was created for the three new teams, bringing Méndez one more championship in his storied career. He would never pitch professionally again.
Less than two years after he was out of baseball, Méndez died in Havana on October 31, 1928, likely of tuberculosis. He was buried in Cementerio de Cristóbal Colón, and his name was inscribed on the 1951 Monument to Baseballists. He was inducted into the Cuban Baseball Hall of Fame in its inaugural class of 1939, and he joined the elite at Cooperstown in 2006, one of the members of the final class of Negro Leaguers voted in under current rules. His nickname in life had been El Diamante Negro, the Black Diamond, and today, 108 years after he made his professional debut, Méndez remains the premier jewel in the crown of Cuban baseball elites.
January 23, 2015-We are saddened by the news of the passing of Ernie Banks. We have lost a piece of American history tonight. Not only was he the most beloved Cub in that venerable franchise's long history, but he was one of the few remaining on this earth who played in the Negro Leagues.
There will always be another game tomorrow, but life reminds us that the time of the men who play it is short.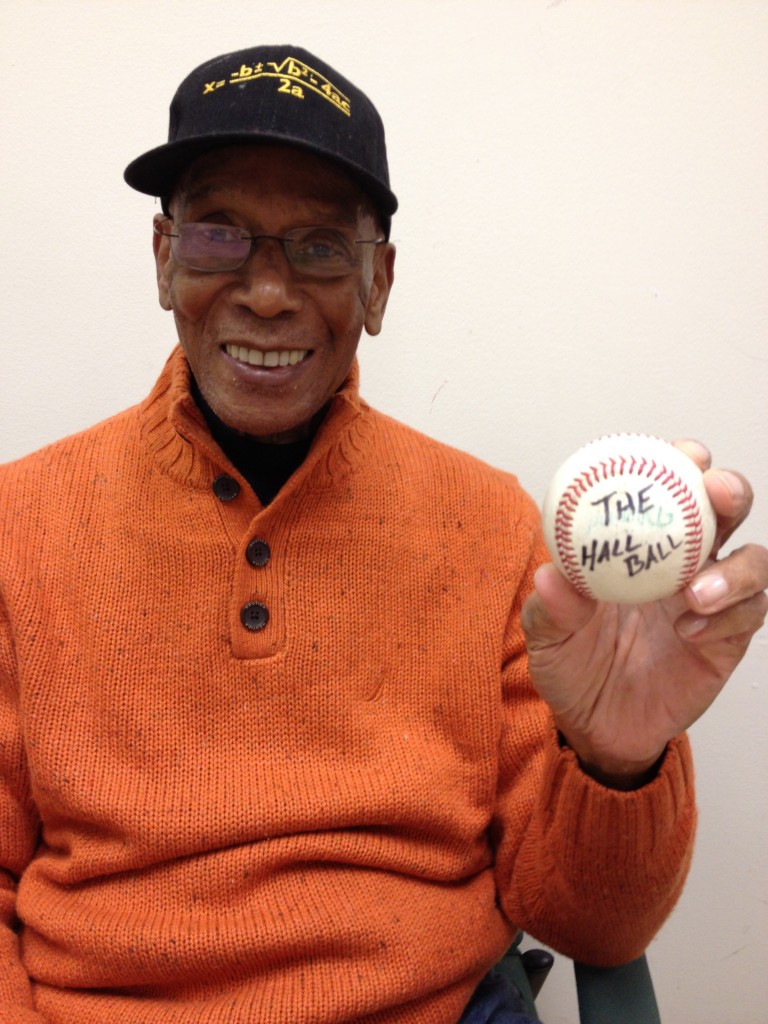 January 16, 2015-The Hall Ball would like to extend its most sincere congratulations to newly elected Hall of Famers Craig Biggio, Randy Johnson, Pedro Martinez and John Smoltz. This most deserving class brings the total number of Hall members up to 310, with 70 of them still alive, the most since we started working on The Hall Ball four and half years ago. As much as we are moved by the sanctity of visiting the graves of the members who are no longer with us, we would of course prefer to visit with them while they are alive.  The dead, after all, tell no tales and they certainly don't move you to tears of laughter when they keep asking you to take the picture over again because their hair doesn't look right, like Hall Ball favorite Lou Brock.
As we announced on facebook, we recently added our 213th member, Cincinnati Reds legend Barry Larkin. Mr. Larkin was warm and encouraging when we told him about the project and his smile in the photo was genuine. There are two more living members who will be in the New York City area in the next few weeks, but as always we will wait to announce them until we've succeeded in getting the pictures. Baseball is filled with superstitions and just as it's inappropriate to mention a no-hitter when you're in the middle of it, we aren't comfortable with talking about the "possibles" until they become the "definites."
Most exciting to us, however, is the upcoming trip to Cuba. All of the pieces are nearly in place and we are just over a month away from visiting this tiny country that has been very big news of late. In preparation for the trip we have been boning up on the history of not only baseball within Cuba, but the country itself. Its story is one of beauty, tragedy, optimism, revolution and the realities of trying to create a socialist utopia in a capitalist world.
The mistakes of the Castro regime have been legion and looked at in the context of the original goals of Fidel's barbudos, they are also poignantly sad. Prior to the US-backed dictatorship of Fulgencio Batista, Cuba was one of the more prosperous Latin American countries. However, it was also rife with Mafia-led crime and excess along with governmental sanctioned economic disparity. When Batista, who was once the democratically elected President of Cuba, took over in a bloodless coup in 1952, it was in part because the poor had been suffering terribly for nearly a decade under the ruling Los Auténticos, or Authentic Cuban Revolutionary Party.
Unfortunately, conditions under Batista's corrupt regime only worsened. Thus, when Fidel, with folk anti-hero Che Guevara by his side, rode out of the Sierra Maestra Mountains to oust Batista in 1959, the Cuban people looked to him with optimism. He spoke, charismatically, of a great revolution that would end hunger and poverty, and make each Cuban the equal of their fellow man. It was only later, after Castro found a friend in Nikita Khrushchev, that his revolution became a communist one. We now know that the communism experiment is a failure, and Castro's self-serving, oppressive and, at times, violent reign of over five decades has prevented Cuba from reaching its dreams of self-sustaining equality, despite his successful efforts to lower crime and increase literacy. The Castro legacy will always be a complicated one.
Despite this, Cubans have found their pleasures where they could. This has always included baseball. Cuban baseball is barely two decades younger than American baseball. When the Cuban League was founded in 1878, just two years after the National League, it became the first baseball league outside of the borders of the United States. Like everything else, baseball has been effected by Castro's reign, as the professional sport was abolished in 1961. Since then, the Baseball Federation of Cuba has lead a multi-league amateur coalition made up of teams representing each of Cuba's provinces. It has cultivated some of the most sought after and talented athletes in the history of the game and at times dominated the world stage.
I am honored that one of my guides will be the amazing Peter Bjarkman. He is the leading authority on Cuban baseball. With the recent announcements about the shift in Cuban/American relations, Peter has become ubiquitous, including an appearance on the NBC Nightly News last month. His expertise guarantees that this trip will be a most enlightening one. I have much to learn about the country and its game.
There are three members of the Hall of Fame who we believe are buried in Cuba. If that sentence sounds a little non-committal, that's because it is. The accepted wisdom is that Negro League greats José Méndez, Cristóbal Torriente and Martín Dihigo are all buried on their native soil. For two of them, there is some question as to the exact accuracy of this. Both Méndez and Torriente are listed on the Monument to Baseballists in Havana's Cementerio de Cristóbal Colón, but that was not erected until 1951, years after their deaths. Records to confirm that their bodies have actually been placed alongside their fellow ballplayers remain undiscovered.
This mystery is part of what we'll be exploring between now and when we leave. Over the next few weeks I will writing about these three men. I will look at their impact on baseball, both in America and Cuba, as well as the role Cuba played in black baseball and vice-versa. Just as the complicated political history of Cuba is intrinsically intertwined with that of America, so is our game. Now, at the dawn of a new normal, we will say goodbye to the end of an epoch by examining the men who helped define it. Join us.